Lufthansa Technik Middle East new facility fully operational at Dubai South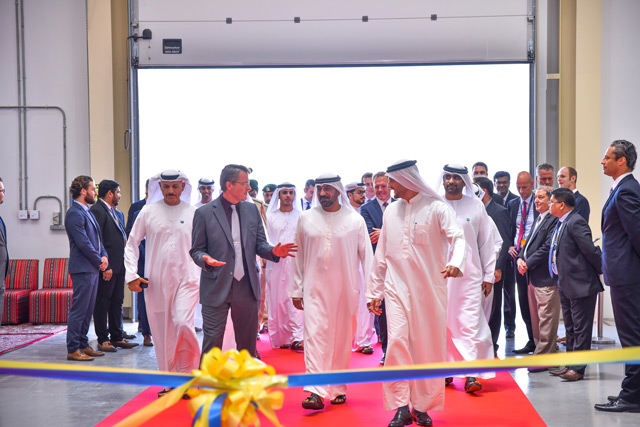 The new facility of Lufthansa Technik Middle East, LTME, has become fully operational in the Aviation District at Dubai South, and was inaugurated in the presence of H.H. Sheikh Ahmed bin Saeed Al Maktoum, Chairman of Dubai Civil Aviation Authority and Chairman of Emirates Group, Khalifa Al Zaffin, Executive Chairman of Dubai Aviation City Corporation and Dubai South, and Gunter Rauer, Consul-General of Germany in Dubai.
Before becoming fully operational, the new facility was successfully audited by the Federal Aviation Office of Germany and different customers from the region, and in the last weeks, a range of aircraft parts have already been repaired on-site like thrust reversers, inlet cowls and radomes.
Khalifa Al Zaffin, Executive Chairman of Dubai Aviation City Corporation, said, "The Aviation District is pleased to engage with a leading global player like Lufthansa Technik. Within the 7.2 sq. km. district, we are progressively building an aviation ecosystem that will match the best in the world, in line with the vision of Vice President, Prime Minister and Ruler of Dubai, His Highness Sheikh Mohammed bin Rashid Al Maktoum. I am certain that Lufthansa Technik will become a powerful player on the aviation landscape at Dubai South."
Ziad Al Hazmi, CEO of Lufthansa Technik Middle East, said, "The official inauguration of our new site is a major milestone within our business strategy for this important region. Over the past weeks we have received high interest regarding our new capabilities from different commercial operators based in the Middle East. It makes us very proud to be the first company to run operations at the Aerospace Supply Chain in the Dubai South Aviation District. On this occasion, I would like to thank the local authorities, and especially our partners from Dubai South, for their comprehensive support over the past months. Having a key presence in the Aviation District has put us in a prime position as a leader in the regional maintenance, repair and overhaul business."
Follow Emirates 24|7 on Google News.