New RIT Dubai Campus launched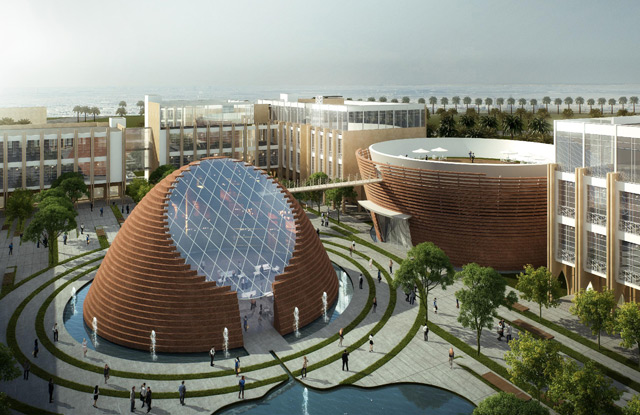 H.H. Sheikh Ahmed bin Saeed Al Maktoum, Chairman of Dubai Silicon Oasis Authority, DSOA, the regulatory body for Dubai Silicon Oasis, DSO, the integrated free zone technology park, today announced the launch of the new Dubai campus of Rochester Institute of Technology, RIT Dubai.
The new premises will span a total area of 129,000 square metres with the capacity to accommodate up to 4,000 students. The development will be completed in two phases at an investment of approximately AED500 million. The first phase with an estimated cost of AED200 million is slated for handover in 2019, while the second phase will be implemented by 2023 at an estimated cost of AED300 million.
Speaking on the announcement, Sheikh Ahmed bin Saeed said, "In line with the directives of its visionary government, the UAE leads the way in adopting cutting-edge innovation. We strongly believe education is at the core of innovation, and are proud to support RIT Dubai's plans to build a brand new campus at DSO. Rochester Institute of Technology is a globally acclaimed academic institution that significantly enriches science-based knowledge, boosts academic standards, and promotes the spirit of innovation."
He added, "Science and technology play a vital role in achieving the UAE Vision 2021, and I am confident that educational opportunities with esteemed international academic institutions that boast world-class facilities, such as RIT Dubai, will shape a scientific mindset in our students. I hope to see more such projects in the UAE in support of the country's innovation drive."
Dr. Mohammed Alzarooni, Vice Chairman and CEO of DSOA, said, "Our collaboration with the prestigious Rochester Institute of Technology aligns with our commitment to the objectives of the UAE Vision 2021. Once opened, the new Dubai campus will contribute to fulfilling the nation's ambitions to advance knowledge and innovation through graduating well-educated and highly qualified future generations. Since its establishment at DSO in 2008, RIT Dubai has launched several academic programmes and courses that respond to the call of our visionary leadership to transform Dubai into the smartest and happiest city in the world. Some of these include the Corporate Happiness Diploma course and the Master of City Science degree programme."
Emphasising the university's ability to drive innovation, Dr. Yousef Al-Assaf, President of RIT Dubai, said, "The new home to our educational institution will feature several state-of-the-art academic facilities, apply distinctive education methods supported by the presence of multinational companies on campus, create an atmosphere conducive to learning, and cultivate a sense of belonging among our students."
Follow Emirates 24|7 on Google News.