Nokia gambles on future with Microsoft partnership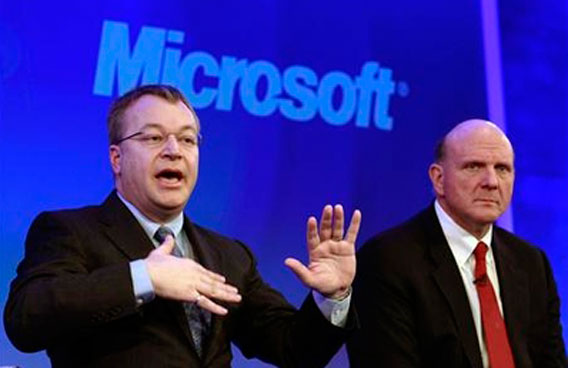 The world's top mobile phone maker Nokia unveiled this week a radical new strategy by partnering with Microsoft, but warned of substantial job cuts around the world.
In a counterattack against the accelerating advance of rivals Apple and Google, Nokia chief Stephen Elop said the company would cast off its own mobile platforms in favour of Microsoft's.
This meant that Nokia had effectively surrendered the battle of platforms in the hope that Microsoft would prove a good gamble.
"The game has changed from a battle of devices to a war of ecosystems," Elop told reporters at a joint news conference with Microsoft CEO Steven Ballmer in London Friday.
Nokia's Symbian operating system will gradually be phased out.
MeeGo however, an operating system it developed with Intel, will be kept around for "longer-term market exploration of next-generation devices," the company said.
"I think there was a recognition that for something to effectively compete and ultimately win against Android and iPhone, it would require some big muscle," Elop, himself a former Microsoft executive, said.
Friday's briefing was the first time that Elop, a Canadian who took over as the first non-Finnish CEO in September, could really put his stamp on the company's direction.
Market-watchers have said for years that Nokia needed to move boldly to halt its market share slide in mobile devices, which has plummeted from 40 percent in the first half of 2008 to just 31 percent in late 2010.
BY jumping into bed with Microsoft, Elop is taking a massive gamble that the two companies, both struggling in the smartphone market, will be stronger together than apart.
But the move drew derision from Google executive Vic Gundotra. "Two turkeys do not make an Eagle," he tweeted soon after the announcement Friday.
Investors were not impressed either, with Nokia's stock closing down a staggering 14.22 percent at 7.00 euros (ê9.48).
The plunge in share price reflected the belief that getting the Nokia-Microsoft partnership fighting fit is not expected to be easy -- or profitable right away -- analysts said.
"Nokia is saying that yes, we will take out a lot of costs, but the margins won't improve," Martin Nilsson at Handelsbanken told AFP of the short-term outlook.
Admitting Friday that the shake-up would produce "significant uncertainties," Nokia did not give annual guidance for 2011.
Instead, it focussed on its predictions for 2013, when the company expects its devices and services net sales to grow faster than the market.
But Pohjola Bank analyst Hannu Rauhala asked: "The smartphone industry is developing at incredible speeds. How will they manage the strategy in the mean time, before they catch up?"
The strategy shift also leaves a lot of Symbian engineers wondering whether they will have jobs when the dust settles.
"There will be substantial reductions in employment in various locations around the world," Elop said, providing no more details.
The announcement sent shockwaves through Finland, sparking an instant walkout from the company's site in Tampere, western Finland, where 1,500 employees are involved with Symbian.
Even the Finnish government rushed to release a statement about what it called "by far the largest structural change ever to affect Finland's new technology sectors."
More than 20,000 of Nokia's 132,000 employees are in Finland.
"There is a big risk that it will be a blow to Finland's research and development sector," Labour Minister Anni Sinnemaeki told AFP.
Finnish media slammed the partnership.
News agency STT called it a "surrender" and warned it was the first step towards moving the national icon to Silicon Valley.
Financial paper Kauppalehti said a Finnish analyst predicted Microsoft would buy Nokia outright, with Elop acting as a Trojan horse.
The new executive however insisted Nokia and Microsoft would be separate but equal in the deal, with each giant taking a risk on the other.
"The relationships with Microsoft has been deliberately structured to make sure there are clear areas of operation... and to make sure that they are placing a bet on us, and we are placing a bet on them," he said.
Follow Emirates 24|7 on Google News.