Nokia's solar-charging screen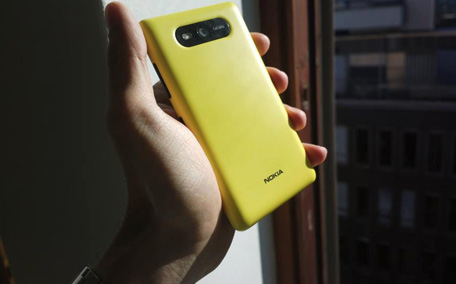 Imagine charging your phone by just pointing it towards the sun. In what could drastically change the rules of recharging your phone batteries, Nokia has displayed an image of a Lumia-lookalike phone with a caption, "Sun, sun, sun, Here we come!" in a possible indicator that it might soon introduce solar charging features into its handsets.
The Facebook picture was posted on Tuesday and has already been liked by close to 9,000 users.
This is not the first time Nokia has shown its interest in solar charging. The company had actually denied earlier reports that it would be incorporating solar chargers into its handsets.
France-based Wysips (What You See Is Photovoltaïc Surface), a division of Sunpartner had displayed its latest technology - a revolutionary film capable of transforming any surface into a source of solar energy production - during the recent Mobile World Congress in Barcelona.
Using the combination of optical and photovoltaic properties, the company has produced an ultra-thin, transparent component (0.5 millimeters or less) that can already generate 5.8 milliwatts-peak per cm2.
It is working towards doubling that amount by 2014 using second-generation photovoltaic materials involving organic semi-conductor polymers. "Since 2012, we have attained a 90 per cent transparency rate," the company claims.
The technology being developed can optimize any type of device, from standard mobile and smartphones to tablets, e-books, etc. It can be adapted to any screen technology including MEMMS, bistable, LCD, OLED, optical screen, etc.
Currently one can still find more than a dozen different brands of external solar charged battery packs that can recharge your phone batteries. A search on e-bay resulted in products as low as $18.
The Arctic C1 is equipped with a 4440mWh lithium-ion rechargeable battery and the mobile phone can be recharged via USB cable and solar energy.
Follow Emirates 24|7 on Google News.