Noor Bank, Jumeirah Group announces strategic partnership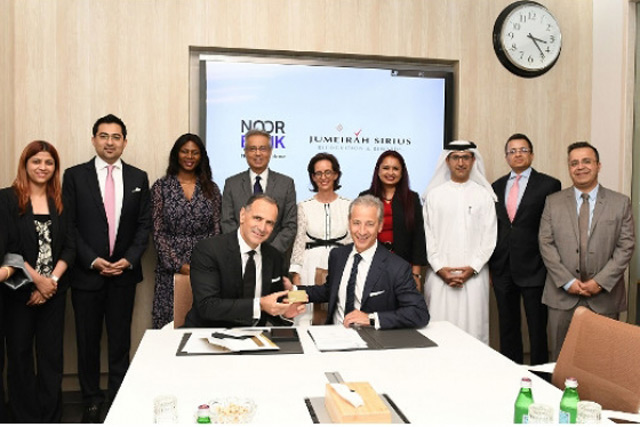 Noor Bank and the Jumeirah Group today announced a comprehensive partnership to launch a suite of premium rewards available to Noor Bank customers.
As part of the roll-out, select retail banking clients will receive complimentary Jumeirah Sirius memberships that allow them to enjoy a range of exclusive experiences and privileges across Jumeirah's extensive portfolio of luxury hotels, residences, resorts and restaurants around the world.
The collaboration reinforces the bank's commitment to introducing unique and innovative propositions and providing its customers access to a wealth of value-added lifestyle privileges with leading loyalty reward partners.
John Iossifidis, Chief Executive Officer of Noor Bank, said, "In line with our efforts to implement value-added services to enhance customer experiences, we are delighted to partner with Jumeirah Group to present this attractive offer to our customers. The collaboration brings tangible benefits to Noor Bank clients as well as Jumeirah outlets across the globe, and will go a long way in establishing Noor Bank as the bank of choice."
Jose Silva, Chief Operating Officer at Jumeirah Group, said, "Partnering with Noor Bank enables Jumeirah to reach a new audience, which is an important step in achieving our Jumeirah Sirius growth goals and is of strategic importance. It represents more than just driving guest behaviour through incentives. This partnership is a way for Jumeirah to build relationships and connect more meaningfully with our loyal guests, and is a fantastic opportunity to thank Noor Bank customers for choosing Jumeirah."
Follow Emirates 24|7 on Google News.