Now in Dubai: Aqua Amaze smartphone @Dh599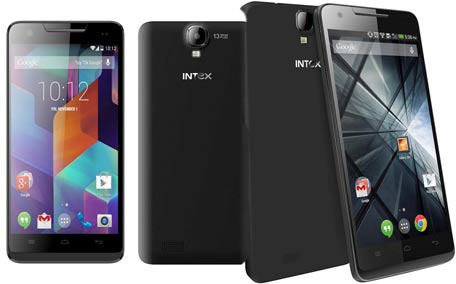 Intex Technologies announced the launch of Aqua Amaze handset in the GCC, in a bid to counter the maze of low-cost smartphones flooding the market today, including the Microsoft Lumia 435 and 532, Asus Zenfone 5, Motorola Moto G and even the Samsung Galaxy Grand.

The new smartphone from Intex is priced at starting price of Dh599, and is now available at various UAE retail outlets.

The device comes with the 1.4 gigahertz (GHz) Octa Core Processor, a 13MP rear and a 5MP front camera, and a backside illumination sensor.

"The Aqua Amaze also boasts a five-inch IPS/OGS HD display with full lamination, an Android KitKat operating system and a dual-Sim feature," said Sanjay Bansal, Managing Director of Intex Technologies.

According to the latest figures from International Data Corporation (IDC), GCC shipments of 4G LTE handsets have increased more than four times over the last year and are now close to accounting for one half of all smartphones sold in the region.

The market intelligence firm's Worldwide Mobile Phone Tracker shows that smartphones now make up 75 per cent of all phones shipped in the GCC, with buyers increasingly moving toward 4G handsets as the market matures. According to a Google survey, smartphone penetration in the UAE and Saudi Arabia stand at 74 and 73 per cent, respectively.

"With the realm of smartphones that exist today, it is essential to create something that not only stands out in terms of price, but compelling features, too," said Bansal.

Nevertheless, despite the slew of new smartphones being sold in the GCC, the market remains behind the curve when compared to the US and even European markets.

The bottom end of the market remains to be driven by 3G handsets, and that's where the new Intex Aqua Amaze is stacked, supporting Wi-Fi, 3G and Bluetooth v4.0.

"The GCC is less than a year behind the market development already seen in Western Europe," added Simon Baker, program manager for IDC's handset research in Central Europe, Middle East, and Africa. "However, the market is further behind the US, where 4G already makes up three quarters of the smartphone market."

Competition and falling prices are playing their part in boosting the uptake of 4G LTE in the GCC.

"All Apple handsets from the iPhone 5C and 5S now offer LTE, but there is much greater choice when it comes to 4G Android models," says Nabila Popal, research manager for IDC's handset research in Middle East, Africa, and Turkey.

"Samsung is now the region's largest vendor of LTE-enabled devices, and while the average price that a Gulf consumer currently pays for a 4G handset is close to $600 (Dh2,200) and has not fallen much over the last 12 months, cheaper models are arriving, most notably from Lenovo and Huawei," said Popal.

Aqua Amaze includes 1 GB RAM and 8 GB internal memory, on-the-go (OTG) support, smart gestures, proximity sensor, LED indicator, dual-SIM, and a 2000 mAh battery.
Follow Emirates 24|7 on Google News.