Oman fiscal gap soars over 100%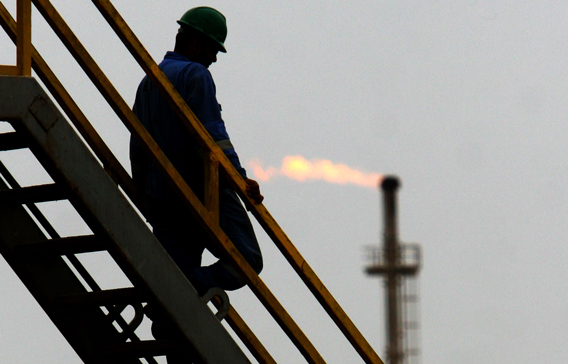 Oman's fiscal deficit more than doubled in the first 11 months of 2010 despite a sharp rise in oil revenue because of higher crude prices and production by the Gulf country, official data showed on Thursday.
Oman, which is not a member of the 12-nation OPEC, had reported a massive surplus in the first half of 2010 before it turned into a shortfall due to overspending and transfer of part of the oil revenue to the state reserve fund.
From around RO139.7 million in the first 11 months of 2009, the budget deficit soared to nearly RO276.4 million in the first 11 months of last year, an increase of around 105.7 per cent, the ministry of national economy said in a report.
A budget breakdown showed spending swelled to around RO6.388 billion in the first 11 months of 2010 from RO6.159 billion in the same period of 2009.
The bulk of the increase was in current spending which grew by about 5.3 per cent to RO3.818 billion from RO3.590 billion. Capital expenditure edged up by around 1.8 per cent to RO2.206 billion from RO2.167 billion.
The increase in capital spending was mostly in allocations for civil ministries development as investment in oil and gas production fell by 17 and 5.4 per cent respectively, the monthly statistical bulletin showed.
The increase in spending was more than offset by growth in revenue by around 16.7 per cent to RO7.023 billion in the first 11 months of 2010 from nearly RO6.019 billion in the first 11 months of 2009.
Net oil export earnings, after transfers to the state reserve fund, jumped by about 22.7 per cent to RO4.89 billion from RO3.986 billion. Gas revenue surged by 28.2 per cent to RO824.8 million from RO643.3 million.
The surge in oil exports was a result of nearly $15 increase in crude prices and a large rise in Oman's oil output as the Gulf country is pushing ahead with an ambitious programme to reverse a fall in its oil production in previous years due to lower investment and a focus on gas field development.
Oman's oil output soared to nearly 870,000 barrels per day in the first 11 months of last year from around 806,000 bpd in the same period of 2009. Last year's output was the highest in nearly eight years.
Higher expenditure allied with a surge in oil production and prices to boost Oman's nominal GDP by nearly 28.3 per cent to RO16,334 million in the first half of11 months of 2010 from around RO12,732 million in the same period of 2009.
The report showed the oil sector shot up by around 56.5 per cent while there was growth of 33.5 per cent in the gas sector, and 13.0 per cent in the manufacturing sector. All other sectors also recorded growth.
Oman has just endorsed a new five-year development plan that aims to achieve real GDP growth of three per cent annually and keep inflation under control.
Sultan Qaboos bin Saeed ratified the eighth plan at the start of 2011 to kick off one of the Gulf country's largest development schemes targeting massive investments and intensification of plans to diversity its oil-reliant economy.
The Sultan also endorsed the 2011 budget, which forecast spending at a record high RO8.13 billion and revenue at RO7.28 billion, leaving a deficit of RO850 million, nearly four per cent of the estimated 2011 GDP.
"The plan aims to achieve minimum real GDP growth of three per cent a year and ensures inflation will remain at low levels….it will focus on stronger coordination between monetary and fiscal policies to achieve economic stability and on continuation of projects under way with an emphasis on new ventures," Oman's official media said early this month.
"The plan will also pursue diversification efforts and a drive to expand the country's oil and gas production and increase hydrocarbon reserves."
The newspapers, citing a government statement said the 2011 budget was nearly nine per cent higher than the 2010 budget, adding that this year's budget is based on a record high oil price of $58 a barrel.
Follow Emirates 24|7 on Google News.