PCFC discusses means of growth with businesses in Dubai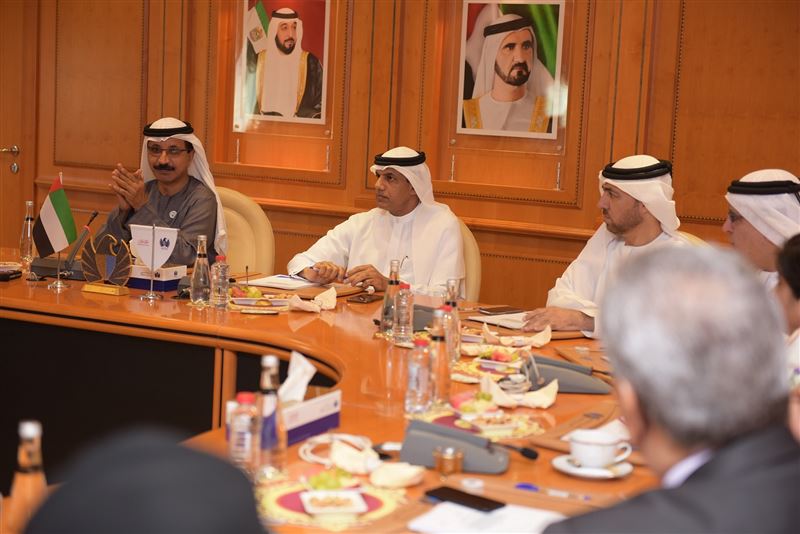 The Ports, Customs, and Free Zone Corporation, PCFC, augmented its partnership with trade and business groups in Dubai through an open dialogue with them in the quarterly Consultative Council organised recently.
The Dubai Customs Consultative Council meeting was headed by Sultan bin Sulayem, DP World Group Chairman and CEO and Chairman of Ports, Customs and Free Zone Corporation.
The meeting was attended by heads of business groups, investors and businessmen in different economic sectors in Dubai, and Dubai Customs' senior management including Juma Al Ghaith, Executive Director of the Customs Development Division at Dubai Customs; Abdullah Mohammed Al Khaja, Executive Director of the Clients Management Division; and Farid Hassan Al Marzouqi, Executive Director of the Human Resources, Finance and Administration Division.
The meeting focusses on the facilities provided by Dubai to the private sector in order to attract economic growth and sustain Dubai's world distinctive standing.
Bin Sulayem reaffirmed that the Dubai government works hard to provide the best incentives to the private sector following the directives of the wise leadership and the vision of His Highness Sheikh Mohammed bin Rashid Al Maktoum, Vice President, Prime Minister and Ruler of Dubai.
"We expect your involvement in this exciting journey of development and progress, and we are open to discussing any issues or matters that can be of concern to you. It is a win-win relationship for all of us and we are here to help you grow your business.
"We realise some government fees can be reduced, and for this, the Executive Council is reviewing them and works to prevent duplication of fees imposed by some government departments, plus studying other challenges that face investors and businesses. We, at the PCFC, are happy to listen to you and take your suggestions seriously because this helps improve and support different economic sectors.
"We share your insight and suggestions with the Dubai Executive Council and the Federal Government to be further studied and based on that decisions are made. In general, we always seek to offer our clients and partners the best and most innovative services to push the growth wheel," he added.
The Chairman of DP World Group invited the business sectors to benefit from DP World's strong world presence in 80 terminals and ports across the six continents. The group is now raising the bar of investment in ports, services and logistics in India, Kenya, Uganda and East African countries such as Somali Land and Ethiopia to help support the economic growth opportunities of these countries.
"We noticed the cost of transportation is still very high in these countries, and this urged us to provide solutions to reduce the cost and make land and sea transportation more efficient. This will help businesses in Dubai, for example, to ship their goods from India at a reduced cost. We are also reviewing handling charges to make sure they are always acceptable," he explained.
Pointing out that landlocked African countries can use Port of Berbera on the African East Coast, he said, "We are planning to set up a logistics complex in Ethiopia where goods can be transported from the port to it, and from there it can be transported to different African landlocked countries. We have signed a number of agreements with Ethiopia that will promote our friendly relationships with them. Business groups in Dubai can always benefit from DP World's presence in different countries, including Rwanda and Egypt where re-exporting opportunities are abundant.
"The world is witnessing rapid changes and developments in trade. There is now more focus on fair trade on the agenda and external policy of countries such as the USA, which means protective measures will be taken to curb the flow of goods from the European Union and China into the American market. There are international efforts to reach for a fair and balanced trade, and these developments and changes have put us face to face with new challenges, but we have learnt from our wise leadership that challenges can be turned into opportunities. We carefully study developments in international trade to always find alternative markets, and this can be sustained through enhancing our strategic partnerships."
Follow Emirates 24|7 on Google News.