Porsche ME posts 20pc growth in 2010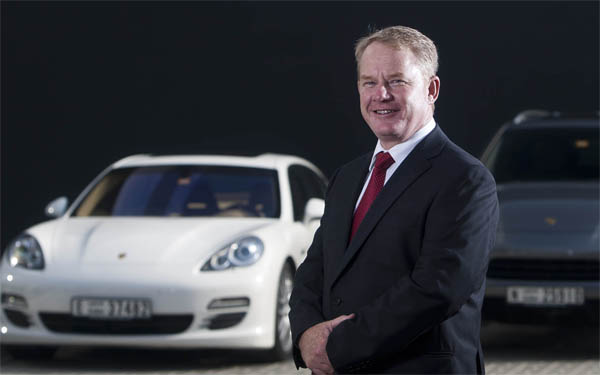 Porsche Middle East registered a 20 per cent growth in 2010, a company statement said. The performance is an indication of how the wholly owned subsidiary contributes to the worldwide success of the Stuttgart-based firm.
In 2010, a total of 6,842 vehicles (5,694 in the previous year) were delivered to Middle Eastern and African markets, more than ever before. "We are back on the fast track. Unlike any other car manufacturer, Porsche is a symbol for fascinating sports cars and 'Intelligent Performance'. Our importers' commitment and dedication contributed to a further consolidation of our customers' trust in the Porsche brand," explains Bernhard Maier, Executive Vice President Sales and Marketing of parent company Porsche AG.
Besides the UAE, the most important markets for Porsche in the region include Kuwait, South Africa, Saudi Arabia and Qatar; Porsche Centre Doha, Al Boraq delivered 725 vehicles in 2010, a staggering 70 per cent increase in comparison with the previous year.
The most popular model in the entire region has been the Porsche Cayenne which accounted just under 3,600 units last year, representing over 50 per cent of all vehicles sold. Since its launch in 2003, Porsche Middle East and Africa sold more than 24,000 vehicles. The new generation Cayenne model range enjoys a great interest from Porsche customers and aficionados alike.
The second most popular car is the Porsche Panamera whose sales of around 1,900 vehicles represents roughly 30 per cent and clearly shows just how successful the company's first ever Gran Turismo really is. Its excellent driving characteristics and dynamic design secured the Panamera a perfect start in the segment of sporty premium sedans in the region. The sports cars, Porsche 911, Boxster and Cayman, continue to enjoy an excellent share of 20 percent and show just how institutionalized the Porsche brand is in a region that is dominated by SUV's.
Porsche Middle East and Africa was founded in 1999 and is based in Dubai. Nowadays, 33 staff members supporting 29 Porsche Centres in 20 markets across the Middle East, Levant, Africa and the sub-continent.
Porsche Middle East and Africa is confident that the region will continue to grow in the future. For instance, a new showroom opened in Hyderabad in late 2010 bringing the number of Porsche Centres in India to three, with five more planned to open during 2011. "India's car market is highly promising with many fantastic opportunities. We look with anticipation and enthusiasm of what is to come in the future and the new challenges we will have to meet," says Deesch Papke, Managing Director of Porsche Middle East and Africa, the fourth largest Porsche sales subsidiary.
Follow Emirates 24|7 on Google News.