Qatar residents to get free Internet access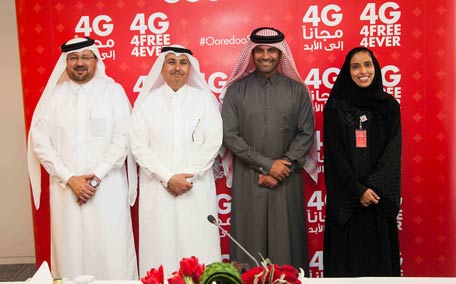 Ooredoo Qatar's Chief Operating Officer has announced that the Ooredoo 4G network would become permanently free to all of the company's customers, during a press conference.

Waleed Al-Sayed said that the 4G Key, which usually costs Ooredoo customers QR60 (Dh60) per month for Shahry and QR15 per week for Hala, would be free for all Shahry pack customers and Hala Mobile Internet or Broadband Pack customers, as part of Ooredoo's 2014'Year of Digital' campaign.

The campaign will include major updates for Shahry and Hala customers, including revamped mobile data packs, as Ooredoocontinues to cater for the number of growing smartphone users in Qatar with their upcoming #OoredooSmart campaign.

Al-Sayed said: "Last year we launched Qatar's fastest-ever 4G network, connected more than 100,000 customers to Ooredoo Fibre to homes, launched Business Fibre and drove innovation with our Ooredoo App. So this year, in celebration of our customers who helped us achieve all of this, we're making 4G free tosay thank you for your support and to kick off #OoredooSmart."

Customers have rapidly adopted 4G, as the network provides connection speeds that are three-to-six times faster than the existing 3G network, an Ooredoo press statement said. On 4G, customers can enjoy the smoothest Internet browsing experience – easily transfer big files, stream HD video from Ooredoo's Mozaic GO app, and quickly update social media.

Ooredoo recently completed their countrywide rollout of 4G, meaning that customers can now experience 4G – Qatar's fastest-ever Mobile Broadband network – in all inhabited areas of Qatar.

The 4G network is available now for prepaid Hala Mobile Internet or Broadband Pack customers and all postpaid Shahry customers. To access the 4G key on mobile and smartphone devices, Hala customers should SMS the keyword '4G' for free to 121. Shahry customers can send '4G' to 114.

Ooredoo asks customers to ensure their phones are 4G enabled before activating the 4G key.

The Year of Digital campaign will also include a push toward a more independent and self-sufficient customer service, including updates to the Ooredoo app, self-service machines, social media and the Ooredoo111 Customer Care line.

The company has confirmed it will be actively participating in the Mobile World Congress in Barcelona on 24-27 February, during which it will be announcing another major milestone for the company.
Follow Emirates 24|7 on Google News.