RIM to offer PlayBook on more high-speed standards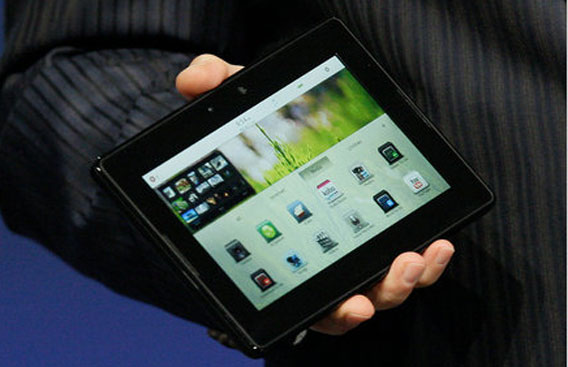 Research In Motion, maker of the BlackBerry smartphone, will release its PlayBook tablet computer on two more high-speed network standards in the second half of 2011, the company said on Monday.
The move to offer LTE and HSPA+ versions of its PlayBook guarantees access to the most advanced wireless data networks in the world, including all major carriers in North America.
The first version of the PlayBook, with WiFi and Bluetooth but no cellular connection, is set for launch in March and U.S. carrier Sprint Nextel will sell a version for its WiMAX network in the summer.
But some analysts are growing impatient with RIM's timeline for the PlayBook, which was first announced in September and will join a booming market dominated by Apple's iPad and compete for attention with tablets from the likes of Samsung, Motorola Mobility and Hewlett-Packard.
"It's like a lot of stuff with the PlayBook: let's start seeing it, let's get it to market," said BGC Partners analyst Colin Gillis. "There's been more talk than product. By the time they come out we're going to have iPad 2."
The WiFi version of the PlayBook can connect to a user's existing BlackBerry smartphone to access its data and use its wireless connection, but that may give carriers little incentive to subsidize or advertise the PlayBook aggressively.
Evolved High Speed Packet Access (HSPA+) is used by AT&T and T-Mobile in the United States and Rogers, BCE Inc and Telus in Canada. Long Term Evolution (LTE) is an all-IP standard that Verizon Wireless, among others, has started to deploy.
Both standards are designed to carry increased amounts of data needed for video streaming and large file downloads at improved speeds.
RIM also said on Monday it had bought Seattle-based business social networking company Gist for an undisclosed sum, as it seeks to bolster its position versus Apple, Google's Android, and the newly announced combination of Nokia and Microsoft in the fiercely competitive mobile telecoms market.
Gist aggregates information on a user's contacts from various social media and news feeds and incorporates it in a consolidated profile.
"I like the acquisition strategy but I find it a little late," Gillis said, referring also to the December purchase of The Astonishing Tribe, a user interface company Gillis doubts RIM can utilize for its first PlayBook.
RIM also said its App World online store is now available in 27 more countries for a total of 101, and now has more than 20,000 applications on offer.
The Waterloo, Ontario-based company has struggled to compete with the consumer-focused app offerings of Apple's App Store and Google's Android Marketplace.
Shares in RIM, which announced the PlayBook in late September, have jumped almost 50 percent since early that month. They closed down 1.6 percent at C$64.85 on Monday.
INVESTING AGAIN IN FUND
RIM also said it will contribute to a second $150 million version of the BlackBerry Partners Fund, which will focus on investing in mobile-computing start-up companies.
The fund, which follows an earlier version that has invested in 13 mobile start-ups in North America, Israel and Ireland since 2008, is expected to be launched in June.
One of those start-ups, social gaming company SocialDeck, was bought by Google in August.
RIM did not disclose how much money it is providing, but said it was a "lead" commitment. The Ontario Venture Capital Fund has also invested, the fund managers have said.
Thomson Reuters and Royal Bank of Canada joined RIM as lead contributors in the first fund. Both companies declined to comment on whether they were involved in the second fund.
The co-managers of the fund said in October they saw opportunities to tap into growing mobile markets such as India, China and Brazil.
Follow Emirates 24|7 on Google News.