Samsung mobile payment service launched in UAE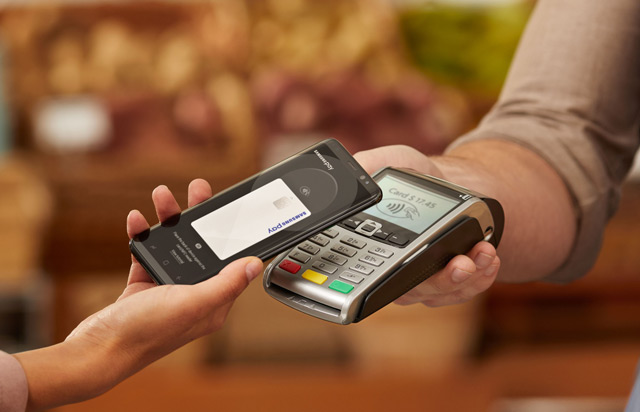 Samsung Gulf Electronics announced today the launch of its much-anticipated, flagship mobile payments service, Samsung Pay, in the United Arab Emirates . Simple and Secure, Samsung Pay can be used to make purchases almost anywhere you can swipe your debit or credit card.
Samsung Pay works with Samsung's patented Magnetic Secure Transmission technology as well as with Near Field Communication. MST replicates a card swipe by wirelessly transmitting magnetic waves from the supported Samsung device to a standard card reader. Through MST, Samsung Pay will work seamlessly on most point of sale terminals in the UAE.
The UAE is the first country in the Middle East to introduce the service and the 14th in the world, following successful launches in the United States, Korea, Russia and more. In just under two years since its initial launch, Samsung Pay is now present in 17 countries, including those with early access.
"We are thrilled to introduce Samsung Pay in the Middle East, an innovative new service that we believe will evolve the way people in the UAE carry out their purchases. With Samsung Pay, we are confident that we are providing customers and merchants a mobile payment service that will pave the way for a cashless society in the UAE." said Mohammad Gharaibeh, Head of Enterprise, Mobile Business at Samsung Gulf Electronics. "Our goal with Samsung Pay is to drive and lead innovation in mobile commerce, providing our customers with a mobile wallet solution that is simple, secure and available almost anywhere. Since the early access introduction of Samsung Pay last year, we have seen great momentum and experienced significant consumer adoption."
Extensive Partnership Ecosystem
Samsung Pay is strategically expanding its partnership ecosystem to provide greater flexibility, access and choice for customers. Samsung Pay has partnered with major payment networks, such as Mastercard and Visa, to bring mobile payments to consumers.
The service will also launch with major UAE banks, including the ADCB, HSBC, Emirates NBD, Mashreq, National Bank of Abu Dhabi, RAK Bank and Standard Chartered to make the service available to more consumers in the UAE.
"We have partnered with major banks and payment networks to provide our customers with a wide range of choices when it comes to making purchases. We are committed to making Samsung users, lives easier and we are currently working on bringing more and more partners on board soon," added Mohammad Gharaibeh, Head of Enterprise, Mobile Business at Samsung Gulf Electronics.
"Mobile phones have evolved from a humble beginning to become an essential part of consumer's everyday life. At ADCB, we recognize the potential of Samsung Pay to provide superior convenience and security of making payments whilst delivering an innovative user experience for our ADCB credit cardholders," says Abdul Shakeel, Head of Retail Banking, ADCB. As part of ADCB's commitment to support innovations in the payments space, during the launch period, all ADCB customers will enjoy 10 times the usual rewards when they pay 10 times with their ADCB credit card on Samsung Pay."
Matthew Colebrook, Head of Retail Banking and Wealth Management, MENA & Turkey, HSBC, said: "Given that UAE has one of the highest smartphone penetration rates globally, we find discerning customers are on the look-out for convenient and secure solutions for their everyday banking and payments needs. At HSBC, we have sought to support these demands by introducing a number of unique initiatives, and Samsung Pay represents another vital step in this process. It is a monumental initiative for the industry, and will greatly enhance our customers' purchasing experience."
Commenting on the Samsung Pay launch, Mr. R. Sivaram, Head of Retail Banking Products, at Emirates NBD said: "As a market leader in innovation and digitization, Emirates NBD is committed to providing customers with products that offer superior value, easier access and an enhanced user experience. Samsung Pay, which fully meets these requirements, is an ideal fit among the array of digitized financial solutions on offer from Emirates NBD, and we are delighted to partner with Samsung to introduce Samsung Pay to our customers. Emirates NBD card holders can now register their cards into Samsung Pay to enjoy the speed and convenience of seamless financial transactions."
"Samsung Pay App offers Mashreq Cardholders and merchants a simple and secure way to conduct payment transactions. It is the kind of innovation that brings the world of mobile payments and physical commerce closer together, partnering with Samsung is an exciting move for us in that direction. We pioneered Cardless Cash and Card Control in 2015 and 2016 respectively as the first Bank to make it possible to withdraw cash without a card and to empower customers to have full control over their cards instantly. These innovative initiatives from Mashreq are aligned with the UAE's vision to become a digital economy. An early and exclusive access of Samsung Pay for Mashreq, gave a huge head start primarily to our customers in the form of getting used to the new payment methodology, as well as getting acquainted with it. Although the penetration of digital wallets is still in a nascent stage, I strongly believe the market will grow exponentially in the next few years," said Subroto Som, Head of Retail Banking Group, Mashreq Bank.
"Our collaboration with Samsung to launch Samsung Pay in the UAE is set to give another significant boost to our vision of a cashless world as we continue to maintain our position at the forefront of innovations in the digital payments space. As a leading technology provider, we remain dedicated to bringing cutting-edge payments solutions to our consumers and with the introduction of Samsung Pay in the UAE, we look ahead to setting new benchmarks for ourselves in the contactless domain," said Girish Nanda, General Manager, UAE, Mastercard.
"The opportunity for Samsung Pay in the UAE is significant, due to the high smartphone penetration rate and the digitalization of the banking sector. We are seeing interest from our customers in the UAE in incorporating a secure, simple and widely accepted payments service like Samsung Pay into their lives," said Suvrat Saigal, National Bank of Abu Dhabi's Head of Mass Segment and Products.
"We embarked on a journey and partnered with technology industry leader, Samsung, to offer alternate payment solutions that can facilitate the customer's banking experience through the recently launched Samsung Pay," said Peter England, CEO of RAKBANK.
"At RAKBANK, we are fully committed to placing our customers' needs first and providing them with highly convenient, secure, and simple digital banking services."
"Standard Chartered is pleased to introduce one of many initiatives designed to make banking easy and convenient for our clients – Samsung Pay," said Shehzad Hameed, Head of Retail Banking, Standard Chartered Bank UAE. "With the UAE's strong mobile penetration, banking and payment on mobile devices is fast becoming a lifestyle and we will continue to deepen our offering in the mobile payments space to enhance the banking experience for our clients."
"With the increased usage of connected devices in so many aspects of our lives, we are seeing more people turning to their mobile devices to make payments in both the physical and online worlds," said Nathan Cushnie, Head of Emerging Products and Innovation, Middle East and North Africa at Visa. "With Samsung Pay, we look forward to the collaborative effort in ramping the acceptance of contactless payments in the UAE, and are happy that Visa card holders in the UAE can now enjoy a new way to pay, that is not only fast and convenient but also embedded with breakthrough security technology."
Follow Emirates 24|7 on Google News.