Saudi inflation to ease in 2011-2012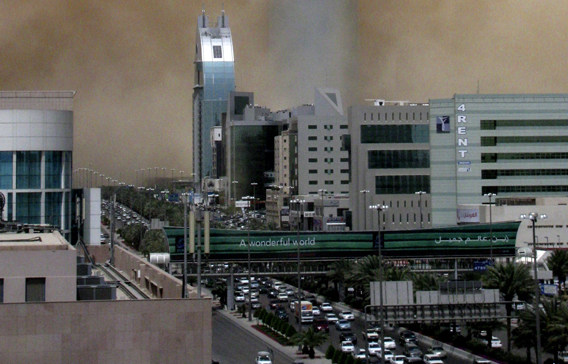 Inflation in Saudi Arabia will slip slightly in 2011 and ease further in the following year but the rate remains high considering the historically low inflation average in the world's oil superpower, a key Saudi bank has said.
Inflation in the largest Arab economy averaged 5.4 per cent in 2010 and could edge down to nearly 5.1 per cent in 2011 although food inflation will likely be much higher, Banque Saudi Fransi (BSF) said in a study sent to Emirates 24/7.
BSF said inflationary pressures in the Gulf Kingdom continue to stem from domestic triggers, including rent and higher goods and services costs, and elevated global food price inflation.
After hitting an 18-month high of 6.1 per cent in August, inflation moderated and averaged 5.4 per cent in 2010, three percentage points above the year earlier.
"Price pressures are likely to ease slightly this year due to comparatively lower rental inflation, although food price inflation could remain elevated due to global price pressures. We expect annual inflation to average 5.1 per cent this year, historically high for a country that experienced average inflation of 0.8 per cent between 1990 and 2006," BSF said.
"Inflation does not pose the same degree of societal risks that it did in 2007 and 2008, when it reached double digit levels for the first time in three decades at a time when the purchasing power was weak due to US dollar frailty. We also foresee inflationary pressures easing further in 2012, according to initial indications. With improved lending and faster money supply growth rates, the central bank should be comfortable in raising its repurchase rate by 50 basis points for the first time in three years."
The report cited a government announcement in November that it would not phase out an inflation allowance that had raised salaries of state employees by 15 per cent over the last three years in order to help them cope with rising prices, without consequently stoking inflation.
It said the government's stimulatory spending programme, involving a record high budget this year, has not created notable inflationary pressures in goods, services and wages because state investments have complemented the lack of private sector investment, rather than competing with it.
"Food inflation, comprising almost a third of the cost of living basket, is likely to hover around 6.9 per cent in 2011. Global prices for wheat, corn and rice surged by 26 per cent between June and November 2010, pushing their index to an all-time high in December," the study said.
"Aside from global factors, the dynamics of wholesale food production and distribution have contributed to market imbalances. Inflation could get some downward pressure from the other expenses and services category, accounting for 14 per cent of the consumer price index….. gold and jewelry comprise a large weighting in this basket and should undergo a corrective phase as global inflationary concerns subside."
The study said rent and utilities inflation, about a fifth of the index, should fall to 7.8 per cent in 2011 from 9.5 per cent last year, continuing on a declining trend since inflation in the index peaked at almost 20 per cent in mid-2008.
"Given the market's inadequate supply, upward revisions are plausible. In our latest business confidence index, however, business executives said they expected inflation rates to decline in the coming six months."
Turning to the economy, BSF said that with a strong oil price backdrop, 2011 promises to be a positive year for the Saudi economy.
"It will be one marked by solid economic growth rates, manageable inflation and twin fiscal and current account surpluses," it said.
"In 2012, the economy should encounter a more promising outcome, with real GDP growth accelerating to 4.4 per cent, including expansion of 4.5 per cent of the private sector as the government sector pulls back further."
It noted that one "unforeseen" feature of this year's budget announcement was the government's reduction of public debt in 2010 to nearly SR167 billion from SR225.1 billion a year earlier.
"As countries the world over grapple with rising debt-to-GDP ratios, Saudi Arabia reduced its debt ratio to 10.2 per cent from 16 per cent a year earlier. In 2003, the debt-to-GDP ratio was 82 per cent," it said.
"The move was an attempt by the government to demonstrate the extent of its fiscal health even as it pursues record budget expenditures. All Saudi government debt is domestic, held by the two state pension funds and local banks. We anticipate the government will continue to service public debt this year, reducing its burden to SR145 billion, or 8.1 per cent of GDP."
Follow Emirates 24|7 on Google News.