Saudi Oil Minister optimistic crude prices will rise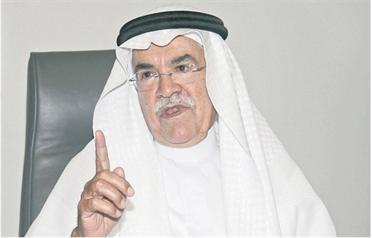 Crude prices will rise, said Ali Al Naimi, Saudi Oil Minister and added that market forces and cooperation among producing nations will lead in time to renewed stability.
"I am optimistic about the future, the return of stability to global oil markets, improvement of prices and the cooperation among the major producing countries," Al Naimi said during a meeting with Mexican President Enrique Pena Nieto, who arrived Saturday night in Saudi Arabia.
"Market forces as well as the cooperation among producing nations always lead to the restoration of stability. This, however, takes some time."
Al Naimi declined to comment when asked how the removal of economic sanctions against Iran might affect crude prices. Iran, freed of curbs on its oil exports, plans to boost shipments by 1 million barrels a day this year.
Led by Saudi Arabia, the Organisation of Petroleum Exporting Countries, which supplies about 40 per cent of the world's oil, abandoned limits on output on December 4 amid efforts to squeeze higher-cost producers such as Russia and US shale drillers out of the market. The decision contributed to a global glut and led to a further drop in prices. Saudi Arabia produced 10.25 million barrels a day in December, up 750,000 barrels a day from the end of last year, according to data compiled by Bloomberg.
Brent crude dropped $1.94, or 6.3 per cent, to $28.94 a barrel on the London-based ICE Futures Europe exchange on Friday. The benchmark grade has dropped 22 per cent this year after tumbling 35 per cent in 2015.
Saudi Arabia, the world's biggest crude exporter, together with non-Opec producer Mexico have "an especially important role to play," Al Naimi said Sunday in Riyadh at an event with the Mexican president and energy minister. When oil prices plummeted in 1998, Mexico cooperated with the Saudis and other suppliers to restore market stability and boost prices, he said.
"Mexico and the kingdom have an especially important role to play in achieving this objective, in the past, at the present, and in the future," Al Naimi said.
Saudi Arabia will sign an agreement on Sunday to cooperate with Mexico in the oil industry, with provisions for exchanging experts, setting up joint ventures and encouraging mutual investments, he said.
Follow Emirates 24|7 on Google News.