Sharjah gets Passport2Export: Top 10 export markets revealed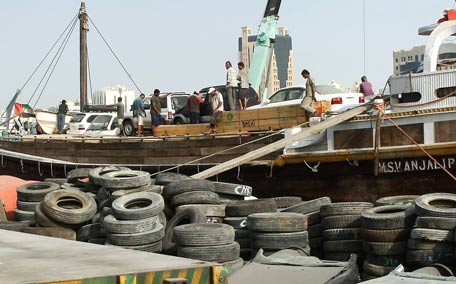 Sharjah Chamber of Commerce and Industry has launched a dedicated centre to support companies in the emirate to increase the exports of products made in Sharjah. Sharjah has long been a manufacturing hub for the region, with exports playing an important role in the emirate's economy. Manufacturing accounts for 17.1 per cent of Sharjah's gross domestic product.

The Sharjah Exports Development Centre will help domestic manufacturers increase the competitiveness of their goods and find new markets abroad as well as strengthen existing international trade connections, Sharjah Chamber said in a media statement.

"Sharjah has been an internationally-focused economy for generations. The Sharjah Exports Development Centre will be an important resource for companies in Sharjah that want to find new markets for their goods abroad," said Hussain Al-Mahmoudi, Director General of the Sharjah Chamber of Commerce.

"Major international companies such as Gulftainer, Petrofac, and Tiffany Foods have grown from Sharjah," he added.

The centre will provide a range of services to exporters and those that wish to begin exporting for the first time. It will help organise specialised training programmes to improve the skills and knowledge of staff within exporting companies and organisations that aspire to start exporting their products.

This includes a specialised programme called Passport2Export, which will focus on areas including financial and regulatory requirements, international market research and developing export strategies. The centre will also run a range of in-depth workshops, lectures and seminars on specific aspects of exporting.

Sharjah's Top 10 Export Destinations

1. Saudi Arabia

2. Oman

3. Iran

4. UAE

5. Iraq

6. Qatar

7. India

8. Kuwait

9. Egypt

10. Ethiopia

The new centre will work to help market Sharjah's products abroad. This will include connecting Sharjah companies with prospective customers internationally and visiting commercial delegations. The centre will also participate in international exhibitions and events, as well as organise trade delegations to important international markets.

The centre will also showcase Sharjah projects, both at a permanent exhibition at Sharjah Chamber and on its website (https://sharjahexports.gov.ae/en/). These exhibitions will enable Sharjah projects to be seen and reviewed by potential buyers worldwide.

Top 10 exports from Sharjah, 2014

1. Boilers, machinery and mechanical appliances

2. Machinery and apparatus for isotopic separation

3. Articles of stone, plaster, cement, asbestos, mica or similar materials

4. Salt; sulphur; earths and stone; plastering materials, lime and cement

5. Motor vehicles for transport

6. Metal fabrication

7. Food stuff

8. Iron & steel

9. Plastics and articles thereof

10. Other vessels for the transport of both persons and goods

An export assistance programme of the centre will provide data and information on international market opportunities gathered through the centre's partnerships and international relationships around the world. This will include foreign trade statistics and information on details of tariffs, facilities, exemptions and guarantees.

The programme will also provide information on the latest international bids and tenders, and a standards map that shows specifications for goods around the world. The centre will work with specialised export insurers to provide protection to exporters against losses and problems in executing contracts.

Finally, the centre will provide bespoke consulting for companies in areas such as legal and marketing requirements, and financial requirements.
Follow Emirates 24|7 on Google News.