Sharjah's iMall opens doors today with Goldgenie and dancing robots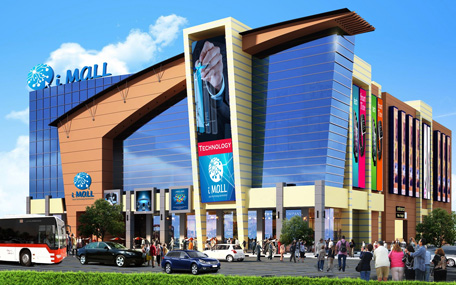 Master developer Nice Home Real Estate has announced the opening of iMall, Sharjah's newest mall, today (June 30), with grand opening celebrations scheduled on Day 1 of Eid al-Fitr.
"We have planned a number of activities catering to families. Some of these activities include an LED light show; an Ariel act; special entertainment by dancing robots from Spain – something that hasn't been done in the UAE before; and a digital caricature artist among other things. We also have special offer booklets, car raffles, and prizes planned for visitors to the mall during Eid," said Monir Lotfi, Director, iMall.
The UK-based Goldgenie, one of the bigger names in global technology retail, will be part of the retail mix at the new mall. Luxury gift and specialist gold plating company Goldgenie is famous for gold-customising hotselling devices such as Apple's iPhones and iPads, Samsung Galaxy series, HTC and Huawei smartphones, and other gift items such as gold bikes.
Spread over a built-up area of 125,000sq ft, the mall was initially conceptualised against the backdrop of a rising demand for consumer technology gadgets in the UAE. However, Lofti points out that the retail destination has now evolved into a value-based shopping mall offering a portfolio of fashion and lifestyle brands along with the IT shops.
Game District, iMall's hi-tech gaming and entertainment area, will be accessible through a special vortex tunnel, and include activities such as a laser maze challenge from Germany, premium soft play section from Japan, Creative Robotics CR8 which will have special classes to teach children the science of designing and engineering robots and more.
iMall seeks to leverage the growing consumer demand for IT and communication-related products in both retail and wholesale segments.
However, with the addition of department store Joanna, the mall aims to also cater to families including women and children specifically to offer a complete family experience.
"iMall provides unique deals across all its product categories, and incomparable leisure and edutainment experiences. With the addition of a department store, we couldn't have picked a better date to launch the mall as it provides people in UAE a new shopping and entertainment destination during Eid al-Fitr," said Lofti.
"We look forward to welcoming everyone to iMall for our grand opening celebrations commencing on the first day of Eid al-Fitr," he said.
Among other notable retailers at iMall will be National Store, distributor of Canon, Moser, SanDisk and other brands; and electronic musical equipment retailer Adawliah. Other popular mobile phone retailers include: Fone Souq by AMT, HiTech, Jasur Al Falah, Rukn Al Zahra (Variety) Computers, Marsa, Fonetel, Quick Link, Al Darah, Haran, and Al Madar Al Raqmi, among others.
iMall is located close to the border between Dubai and Sharjah.
Follow Emirates 24|7 on Google News.