Siemens to set up global logistics headquarters at Expo 2020 Dubai site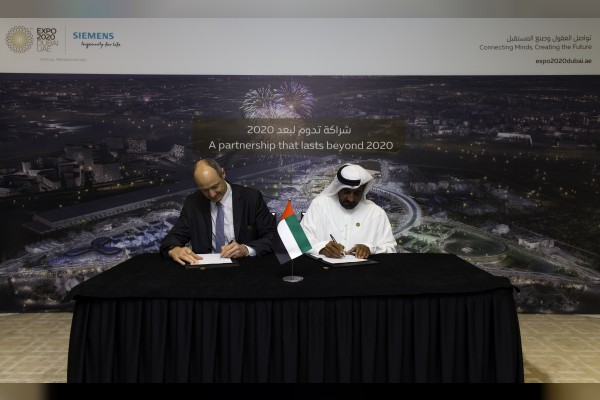 Siemens AG has announced that it is to set up its global headquarters for airports, cargo and ports logistics in Dubai. The company will use the site of Expo 2020 Dubai as the future location for this business after the next World Expo ends in April 2021.
The German company's decision to locate some of its key businesses within the 4.38-square kilometre Dubai South site will capitalise on the industrial and logistics developments in the emirate.
The move is seen as a major vote of confidence for Expo's legacy strategy, aimed at ensuring its site becomes a blossoming district for businesses, residents and tourists alike after the Expo closes.
Additionally, Expo 2020 Dubai announced today that Siemens is to become a Premier Partner for Intelligent Infrastructure and Operations, providing a wide range of innovative solutions, technologies and products to help plan, build and operate an exceptional Expo that will continue to make a meaningful impact well beyond its closure.
Sheikh Ahmed bin Saeed Al Maktoum, Chairman of the Expo 2020 Dubai Higher Committee, welcomed the addition of Siemens to its elite group of Premier Partners, and said the decision of such a leading company to set up its global logistics headquarters at the site after 2021 was a landmark in the overall journey of Expo.
"The decision by Siemens to set up its global headquarters for logistics in Dubai is a vote of confidence for the strong viable legacy plan for the Expo 2020 site and also confirms the global role that Dubai plays as an international hub for business, the logistics, aviation and maritime industries," he said.
Expo management anticipates that more world class companies will follow Siemens' example, bringing new jobs and business to the developing area in Dubai South.
Siemens will make use of the existing infrastructure that is already being put in place on the site and use the permanent buildings of Expo 2020 Dubai as the new home for its future global logistics headquarters.
The new global HQ will include bases for Siemens' airports, cargo infrastructure and ports teams. All levels of value addition will be represented in Dubai including global management and strategy, research and development, innovation, software development, sales, assembly, and production.
Under the partnership, Siemens will also provide smart solutions for Expo 2020 technical and site operations and implement MindSphere, an open operating system for The Internet of Things.
Siemens' Chief Executive Officer, Joe Kaeser, said today, "Siemens has a long history in Expo partnerships and we are delighted to be a Premier Partner for Intelligent Infrastructure and Operations leveraging our open IoT operating system, Mindsphere, for Expo 2020 Dubai and beyond.
"Through this collaboration, we look forward to supporting Dubai's sustainable development goals with our innovative solutions, helping bring the emirate closer to its ambition of becoming one of the world's smartest cities."
Follow Emirates 24|7 on Google News.