Smart City deal breakthrough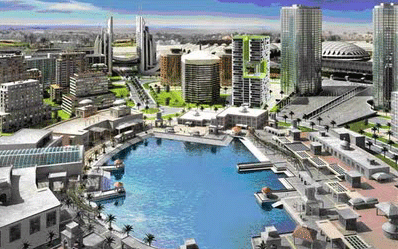 After years of stalemate, Smart City, Kochi, will finally be a reality. On Wednesday, a high delegation from Dubai and Kerala Chief Minister VS Achuthanandan resolved all the pending issues and formally signed the agreement for the development of the project.
Addressing a press conference, the chief minister said on Wednesday that all the issues had been sorted out with Tecom, the Dubai-based promoter of the project, and the construction on the project likely to commence within three months.
According to the framework agreement of the Rs180-billion project, the Kerala government has agreed to provide 12 per cent (29.5 acres) of the total land area of the project as freehold to construct various basic amenities other than IT and IT-enabled services.
The foundation stone for Smart City project was laid on November 16, 2007, but no progress was made since then with a high possibility that the venture could be scrapped.
The Kerala government had identified 246 acres of land in Kakkanad near Kochi for the project. Of this, 133 acres has already got Special Economic Zone status. The remaining 113 acres has to get SEZ status as the plot has a river flowing in the middle.
The deal was struck through mediation of MA Yousuf Ali, a UAE-based businessman, and a director of Abu Dhabi Chamber of Commerce.
The title deed for the land is likely to be registered in a month and the government would approach the commerce ministry for SEZ status for the remaining 113 acres, which will then give concessions in terms of registration fee and stamp duty.
In an interview with Emirates 24/7 in October 2010, Fareed Abdulrahman, CEO, SmartCity, Dubai, said SmartCity has so far invested in land acquisition, master-planning and the design of the project.
When asked when does he believe the project will take off, he said: "As far as we're concerned, we expect that by the first half of next year the project has to start. We are of the belief that India has a lot of potential and we don't believe there are any choices left before us. We're committed to finish off one SmartCity project, deliver it, and then move to building another such project in other Indian cities."
Follow Emirates 24|7 on Google News.