Top Gitex Shopper trends: iPhones, Lenovo laptops and more...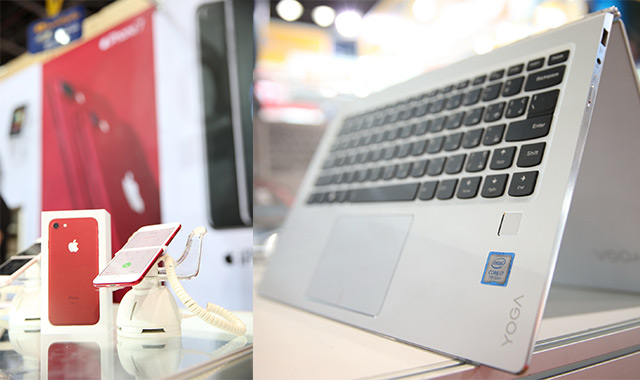 Shoppers looking for latest in technology trends at unbeatable prices are spoilt for choice at this year's GITEX Shopper Spring Edition 2017 which opened its doors yesterday at Dubai World Trade Centre.
This year GITEX Shopper Spring has made it easy to pick up the best offers with free parking for shoppers with a purchase of only Dh300 or more. The 5th edition of brings with it more prizes than ever, and a special anniversary ticket price of Dh20.
With laptops, smartphones and large screen Ultra HD smart TVs taking centre stage at the retail extravaganza, power retailers are out in full force at the four-day show offering visitors mammoth savings, exclusive bundles and a host of cash prizes.
From the recently launched sleek iPhone 7 Red Edition to the much anticipated SUV giveaway, a here is just a snap shot of some of the best deals creating a buzz at GITEX Shopper Spring 2017:
Smartphones
Slimmer, faster and even more intelligent than we could have imagined, a range of smartphones across all price points are stealing the limelight on the show floor.
The popular HUAWEI Mate 9 is proving a big hit with shoppers who are capitalising on the Jumbo smartphone package deal which is offering a power bank, Jabra Halo, backpack, selfie stick and Dh100 Jumbo Gift Voucher alongside the phone all for Dh2,299.
The latest from HTC, the U Ultra can be snapped up at GITEX Shopper for an exclusive price of Dh2,499. This HTC U Ultra bundle price includes a Pioneer Action Camera, and a microSD card, only at GITEX Shopper.
For those shoppers looking to stand out from the crowd, GITEX Shopper Spring has the exclusive iPhone 7 and iPhone 7 plus edition. Plug Ins are offering the sleek new colour option starting at just Dh2,999.
Laurent Riche, General Manager Plug Ins said: "We received a very good response at GITEX Shopper Spring on unbeatable deals and have a high volume of online orders as well. We even have seen sales effect on whole categories of these deals. Additionally the iPhone 7 Red edition has seen the largest traction among the shoppers this year and we expect this to continue until day four of the show."
Laptops
Flipped, folded, titled or stood to suit your needs, the Lenovo Yoga 510 is designed for those who want to be different.
This state of the art 2 in 1 laptop is on offer exclusively at GITEX Shopper Spring with a bundle deal from Jumbo that ensures customers have all they need to look and feel the part.
The Lenovo Yoga 510 exclusive GITEX bundle comes with MS Office 365, an antivirus package, 1TB HDD, a mouse, a Targus backpack, earphones and a Dh300 Jumbo gift card all for the price of Dh3,499.
For those who want all the power with a flexible payment, E-Max have a Dh192 SmartPay monthly finance plan which enables shoppers to get their hands on the HP 14-AL103 laptop inclusive of a MS Office 365, a backpack, headset, mouse, internet security, headphones and a cannon 3 in 1 printer all for Dh3,999.
Smart TVs
Bringing a new wave of TV tech that can easily make its way into your living room from the GITEX Shopper show floor, large screen Ultra HD Smart TVs are taking the event by storm, offering tech enthusiasts the most innovative products in the market at unbeatable prices.
Sharaf DG are giving shoppers the chance to save an incredible Dh55,800 when they purchase a 65-inch LG Super UHD smart TV worth Dh6,799 and a BWM 320i sedan valued at Dh145,000.
With eighteen buyers able to rack up more than AED1 million of savings with the deal, the exclusive combo car and TV package can be bought for only Dh95,999, with buyback value assured should shoppers wish to upgrade the car model.
For those not in the market for a vehicle, the LG UHD TV with webOS 2.0 can be picked up for only Dh4,999 with an Dh1000 gift voucher included.
For those customers looking for a TV that offers size, quality and affordability, Plug Ins are providing the full package with the Samsung 60 UHD Smart LED TV, HDMI Cable and Wall bracket discounted from Dh6,999 to Dh2,999.
More Prizes than Ever
Huge daily cash prizes are up for grabs at GITEX Shopper Spring Edition where visitors spending Dh1,500 or more have an additional option to enter into a daily draw to win an incredible Dh25,000 cash prize. Technology lovers will also be in with a chance to win one of 40 Dell Inspiron 11 3168 laptops with the GITEX Shopper Scratch & Win raffle, plus a grand prize 2017 Toyota Fortuner EXR SUV with the Visit & Win raffle over the four day event.
GITEX Shopper customers will be offered free parking at the multi-story and Sheikh Rashid Tower parking for the duration of the exhibition. On presenting an invoice with a minimum purchase of Dh300 from the show, DWTC will provide a voucher to validate the free parking.
This is in addition to the ample free parking that is available opposite the Convention Gate.
GITEX Shopper Spring 2017 runs from March 29 to April 1, open from 11:00am to 11:00pm every day.
This year, tickets for GITEX Shopper will be priced at the special price Dh 20 for all days and are available to buy online at gitexshopperdubai.com and Platinum List, as well as select UAE Exchange outlets.
Entry is free for children below the age of five.
Follow Emirates 24|7 on Google News.