Toyota to recall another 1.7m cars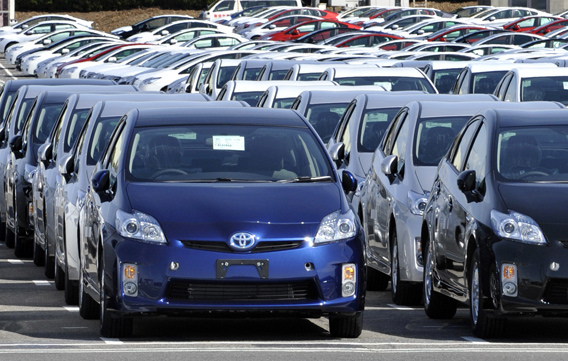 Toyota Motor said today it will recall 1.7 million vehicles worldwide over concerns about possible fuel leakages, the latest setback for Japan's troubled auto giant.
The move will see the world's largest automaker pull 1.28 million vehicles in Japan and 421,000 overseas, Toyota and the Japanese Transport Ministry said.
The news sent shares in Toyota tumbling and they ended 1.87 per cent down in Tokyo.
"Slight cracks may appear on the engine fuel pipes. If it continues to be used, the crack may be widened and there may be risks of fuel leakage," the ministry said in a statement.
The recalls include around 245,000 of Toyota's luxury Lexus vehicles in the US over faulty fuel pressure sensors connected to engine fuel delivery pipes, it said.
The car giant will pull 74,590 Lexus, Crown and other cars in Japan over similar leakage fears. Domestically, 19 models such as Noah, Voxy, Caldina and Isis produced between 2000 and 2009 will be affected.
No accidents have been reported out of more than 140 cases, it said.
In 2008 Toyota ended General Motors' 77-year reign as the world's largest automaker but the road has been a bumpy one for the Japanese giant, facing the impact of the economic crisis, recalls and recently a strong yen.
Previously lauded for its vehicles' safety and reliability, a US recall of around four million vehicles in late 2009 swelled to nearly nine million units by February 2010 for brake and accelerator defects blamed for dozens of accidents.
As criticism mounted of its slow response and bureaucratic inflexibility, Toyota tightened its recall policy and by November last year had pulled nearly 13 million vehicles over a range of issues.
Wednesday's recall adds to the tally and may also increase pressure on the automaker as it battles to retain market share in the US where it is losing ground to re-energised rivals such as General Motors, say analysts.
"The recall is sizeable and it may further damage Toyota's brand image and put trust in its technology in doubt," said Tatsuya Mizuno, auto analyst at Mizuno Credit Advisory.
"The timing is bad as Toyota is barely recovering from the previous massive recall."
Mizuno also noted that with auto parts increasingly globally standardised, worldwide recalls were more likely once defects come to light.
On Monday Toyota said its global group sales rose 8 per cent in 2010, enabling the firm to narrowly retain the title of world's biggest automaker despite its recall crisis, although a revitalised GM has narrowed its lead.
Follow Emirates 24|7 on Google News.