Trade war casualty in US: cheap prices for everyday goods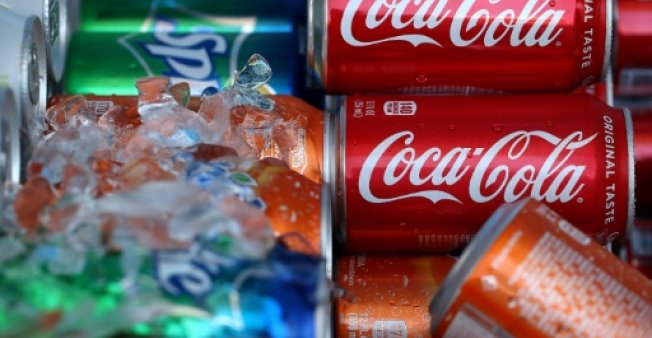 The US economy may be roaring ahead, but American consumers face the prospect of paying more for everyday goods, due in part to trade tariffs.
Big companies reporting earnings over the last week or so described price hikes on everything from soda to airplane tickets to household paint and tools.
Some of the price hikes are still in the planning stages and not all companies are sure they will be able to make higher prices stick due to competitive pressures.
"We have implemented price increases for these implemented tariffs," said Donald Allan, chief financial officer at Stanley Black & Decker, whose products include hammers, saws and power tools.
The 175-year old Stanley expects to generate $190 million more in revenues in 2018 from price hikes, Allan said on a conference call this month.
Soda giant Coca-Cola also recently enacted price hikes in North America, in part because of tariffs on steel and aluminum that raised costs of cans and some production processes.
Coca-Cola chief executive James Quincey acknowledged that retailers were not thrilled with the development.
"Clearly these conversations are difficult, I think it's working its way through," he told analysts this week.
"Ultimately the beverage industry is not the only industry that is facing pressure from changing imports and the need to take pricing," he said. "That's just partly the general environment."
At paint company Sherwin-Williams, executives hinted at price hikes due to inflation in petroleum-linked commodities.
"Our historic practice has always been to talk with our customers first and then the investment community," chief executive John Morikis told Wall Street analysts.
"We are going to protect our margins and we're going to talk to consumers first. And you can connect the dots from there."
- Prices already elevated -
Analysts see a number of factors behind higher commodity prices, with US tariffs on steel and aluminum imports a frequently-cited catalyst.
But while trade actions by US President Donald Trump have gotten much of the attention, analysts note that prices of many goods -- including steel and oil -- were already elevated before the trade war took center stage.
Higher inflation also typically accompanies increased macroeconomic growth, which was estimated on Friday at 4.1 percent in the second quarter by the US government, the fastest level in six years.
Inflation also surfaced as a concern in the first- quarter earnings season, but more companies are now discussing price hikes and some companies said the problem has worsened as Trump has expanded the attack to more countries and regions and as the steel and aluminum tariffs moved from threat to reality.
JJ Kinahan, chief market strategist at TD Ameritrade, said it was still premature to view inflation as a major worry.
"What makes me hesitant on inflation is not how it starts but that it can rise really quickly," he said.
Economists fear that a sudden surge in prices could spark more aggressive interest rate hikes from the Federal Reserve, which could itself derail growth.
- Companies face dilemma -
For companies, the issue of how to respond to elevated commodity prices has compelled difficult choices between accepting lower profits, cutting other spending and lifting retail prices.
General Motors suggested this week that it expects to eat at least some of the hit from $2 billion in higher costs due to metals tariffs and the strong dollar. GM trimmed its 2018 profit forecast, a move that sent shares diving.
GM has managed to offset about half the $2 billion through negotiations with suppliers and hopes consumers will shoulder at least some of the rest, said chief financial officer Chuck Stevens.
"To the extent we can, we're recovering that through pricing," Stevens said. "Obviously the market in the United States is challenging."
American Airlines responded to $2 billion in additional fuel costs this year by cutting some planned additional capacity and defer deliveries of new planes.
These moves will trim $1.2 billion in capital spending over the next three years.
Executives said they also hoped to lift prices on tickets.
"We see a strong demand for the product, and so we're optimistic that there's the chance to recover some of the cost of the increase in the price of jet fuel," said president Robert Isom.
"But over the long run, it depends on the economy and it depends on how much supply is out in the marketplace."
Follow Emirates 24|7 on Google News.