Transatlantic gem sales facilitate 50,000 carats worth of rough diamond at DDE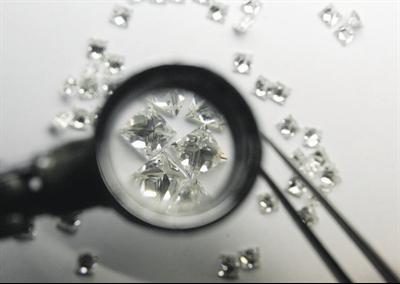 The Dubai Diamond Exchange (DDE), a subsidiary of DMCC, today announced the successful conclusion of the first of six tenders scheduled for 2017.
The tender was held at the Almas Tower and was facilitated by the Dubai Diamond Exchange in a secure, transparent and regulated environment, which resulted in 50,000 carats worth of rough diamonds being sold.
As part of DMCC's collaboration with Trans Atlantic Gem Sales (TAGS), more than 130 buyers attended the 12-day event. The partnership will see TAGS organise six rough diamond tenders in Dubai in 2017.
Dubai represents the ideal meeting place for producers and buyers given its world-class infrastructure connecting markets through its ideal strategic geographic location.
Commenting on the series of tenders, along with DMCC's ongoing collaboration with TAGS, Gautam Sashittal, Chief Executive Officer of DMCC, said: "Dubai is one of the world's top three diamond trading hubs and recorded a rough diamond imports rise of 16% to $6.3 billion in 2016 and DMCC has contributed significantly to that growth. The Dubai Diamond Exchange, a DMCC platform, provides industry participants with the infrastructure, and regulatory framework they require to grow, while leveraging Dubai's unique geographic position between producing and consuming markets across East and West."
Through a unique sales platform developed by TAGS and the Dubai Diamond Exchange, artisanal suppliers with smaller productions are able to market their goods alongside larger industrial miners. This tender featured diamonds from South Africa's West Coast, which is renowned for its clarity and quality.
Reflecting on Dubai's ability to connect the industry's global supply chain, Mike Aggett, General Manager of TAGS, said: "Dubai is an important trading hub for TAGS, featuring not only a robust customer base but also a unique ability to access and connect markets across the globe. By collaborating with the Dubai Diamond Exchange, miners and producers of all sizes and scales have an exceptional opportunity to enter the global supply chain through Dubai, and reach a wider market."
Larger producers taking part in the series of tenders also have a unique opportunity to benefit from the increased interest arising from the inclusion of a wider range of goods.
Marco Wentzel, Chairman TRANS HEX and shareholder INTERNATIONAL MINING and DREDGING HOLDINGS, one of the industry's leading underwater mining operators, also noted: "Diamond tenders are vital means to generate revenues and assess the true market value of their goods, especially in a place such as Dubai, which has a unique ability to bring producers and consumers together in one place. By taking part in this platform, and maintaining the contacts we have cultivated over the past 12 days, we look forward to increasing our trading activities in the region and beyond."
The Dubai Diamond Exchange (DDE) is the only bourse in the Middle East affiliated with the World Federation of Diamond Bourses (WFDB). It holds over 1,000 members.
Follow Emirates 24|7 on Google News.