UAE gold mine for financial technology: MENA FinTech Association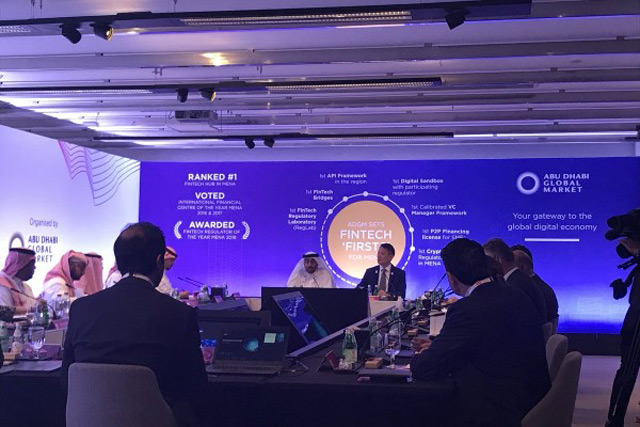 The Middle East and North Africa region is a gold mine that exists nowhere else in terms of this unique mix of digital penetration, population growth and government support for FinTech, Nameer Khan, Founding Board Member of MENA FinTech told Emirates News Agency (WAM).
Abu Dhabi Global Market is on the board of advisers for the MENA FinTech Association, the establishment of which was announced during Abu Dhabi FinTech that concluded in the UAE Capital yesterday. It's an industry-led not-for-profit organisation that has been established to champion the interest of the FinTech community and its members include start-ups, corporates, professionals and technology firms. The Association has also launched bridges with global FinTech associations from more than 16 countries, creating an international and inclusive ecosystem.
"Up to 350 million people in the region create a robust opportunity for FinTech to prosper and grow. Digital and smartphone penetration of around 76 percent of the population is an added value that provides a fantastic opportunity to stimulate FinTech," he continued to say.
"However, financial inclusion is still a concern; but with the regulatory support from the leadership top down the prospects are magnificent for FinTech to grow and to empower startups and enable new generations," Khan added.
"That's why we are positive that the opportunity is massive to come up with game-changing solutions. While leading financial technologies in other parts of the world are doing substantially well because digital is there and can grow FinTech, our goldmine of young population can make wonders."
On the gap in funding between the MENA region and other global players, including Silicon Valley, Singapore, Hong Kong, etc, in terms of financing startups and FinTech in general, Khan admitted the gap but said it's only a matter of time to bridge it.
"Nothing happens overnight. But the environment has been established in terms of resilient and agile regulations that are playing a significant role in encouraging innovators and startups to fly to the region. Such events like FinTech Abu Dhabi and other initiatives that are being taken are a major sign for the global community that that region is well on the way to prosper on the FinTech level. "
Comprising members from startups, corporates, professionals and technology firms, MENA FinTech offers a way for FinTechs to collaborate, develop industry standards and engage in industry discussion in a more concrete way. The Association has already linked up with FinTech associations in 16 countries to make this a truly a global inclusive village.
Follow Emirates 24|7 on Google News.