Vt. Guard chief warns he's target of Facebook scam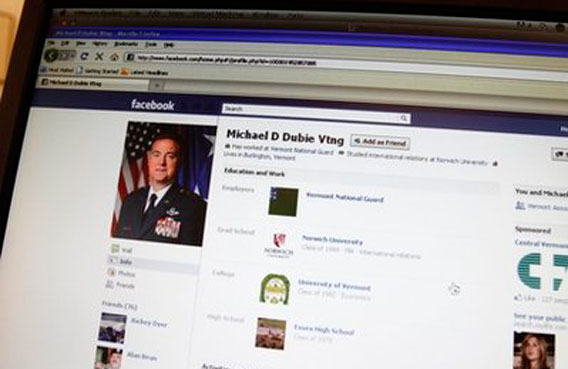 A Facebook and Skype scammer used the name and photo of a high-ranking Vermont National Guard general to steal $3,000 from a Canadian woman in what's believed to be one of a number of frauds that exploit the authority of the military.
The Toronto woman made two wire transfers to London, believing she was helping Maj. Gen. Michael Dubie pay for a shipment of money to Canada after a tour in Iraq. At least two other women, in Taiwan and Germany, have responded to pleas from someone they believed to be Dubie, the guard said.
In October, a Skype user claiming to be Dubie asked the Toronto woman to be friends, she said Tuesday, asking that her name not be used because she fears for the safety of her family.
"I was kind of in awe of the whole thing, that someone like that was contacting me," she said. "I wanted to help someone like that who is an honest, trustworthy person."
The person claiming to be Dubie refused to talk on the phone or video chat.
"He was so adamant that it was him," she said. "He said no, he can't talk to me because he is in Iraq."
Members of the military are frequent targets of such online frauds, said Rick Breitenfeldt, a spokesman for the online and social media branch of the National Guard Bureau at the Pentagon.
People "have a soft spot in their heart for service members," he said.
The woman, a mother of one, started getting calls from a heavily accented man claiming to be a United Nations diplomat representing Dubie. In exchange for the money, she was promised help setting up a business.
A third wire transfer of about $1,500 was blocked after an employee at the wire transfer company became suspicious.
Finally, just before Thanksgiving, she contacted the Vermont National Guard and learned she was not dealing with the real Dubie, though the contacts lasted until just before Christmas.
Though the person's claims didn't add up - paying to ship money, the London address, the refusal to voice verify - the woman said she wanted to help the military.
"I am very naive. I am too honest and trusting of people," she said. "Now I am extremely cautious. It's made me question my whole Internet usage."
Facebook closed several fake accounts purporting to be Dubie at the request of the Vermont National Guard, but at least five were still active Monday. After being asked about the fake pages, Facebook took them down.
"It has come to my attention that there are people using my identity to solicit money on FB and Skype," Dubie wrote Friday on his legitimate Facebook page. "I will never ask for money from anyone in cyberspace."
Breitenfeldt said the Dubie case is the highest-ranking target he's dealt with, but he's had about a dozen such cases since June 2008 and suspects there are more.
"Sometimes it's like playing whack-a-mole," said Breitenfeldt.
Facebook officials do all they can to protect users' identities, "but there is always room for improvement," spokesman Frederic Wolens said in an e-mail.
Using a fake name or identity is a violation of Facebook's policies, he said, and encouraged users to report such activity.
Skype offers communication methods including video chat and instant messaging that scammers have also used.
"User protection is very important to Skype," the company said in an e-mail. "That's why we help you control your online experience by providing easy-to-use and effective online security options."
The scam that targeted Dubie is a variation of old Internet scams like phishing e-mails, Breitenfeldt said.
"Facebook is such a newer platform," he said. "People haven't trained themselves to look at things with a critical eye."
To experienced Facebook users, the fake pages are easy to spot. The profiles have just a handful of friends, use improper grammar and cite details that don't square with the real person's background.
Maj. Juanita Chang, the Army's social media chief, said she encouraged high-ranking soldiers to post real profiles just so their names couldn't be co-opted by impostors.
Vermont National Guard 1st Lt. Dyana Allen said that by studying the messages sent in Dubie's name, she's come to believe it was carried out by a single person.
"He's charming and he tries to get people to trust him first," she said. "It's a very simple scam."
Ultimately all three women contacted the Vermont National Guard headquarters and were told the correspondence was a fraud.
Vermont guard spokesman Lt. Col. Lloyd Goodrow said the case has been referred to the FBI. Dubie, through Goodrow, declined to comment.
"He is quite upset by this," said Goodrow.
Follow Emirates 24|7 on Google News.