What will it take for a debtor to face reality?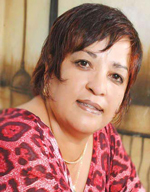 There are hundreds of thousands of you hiding in the shadows, afraid to take ownership and responsibility for the debt-crisis you are facing, and my questions are:
1. Cycling Payments - How long do you think you can continue cycling your credit card payments before you are unable to make the cycle? Depositing your minimum, then waiting a few days, withdrawing it and redepositing for the next card, means you haven't even checked your bank statement to see that the moment you made that deposit, interest and other penalties are applied, so you just threw your hard-earned money into a never-ending black hole! When you only pay the minimum, you're losing most of that money, so don't ask yourself why your balance is not reducing, know the facts, make informed decisions and seek the available solutions to resolve this problem where you see your balance decrease with every payment you make.
2. Debt Mind Blocks - You've probably become a master in blocking your debt-crisis from your mind, so you have learn't to live past it, until the bottom falls out. You cannot ignore a debt-crisis, or it will teach you a very hard lesson you wished you had avoided when you first realized your situation. Debt festers, it grows into a horrible sore that infects your entire being and you will only awake when the chips have all fallen and then it's very hard to salvage your situation, because damage control is not easy.
3. Your Façade - How much tolerance and emotional pain must you endure to continue keeping up your façade with your family, friends, colleagues and the people with whom you have close relationships. This is what I term 'wasted energy', it's too much suffering and pain to endure for nothing, because at the end of the day, you pay your own bills, not those people, no matter how close you are to them. When you face a debt-crisis, 99% of the time you stand alone, so what does it matter if people want to brand you like you have an infectious disease? Your only job is to get out, fast, when you have the chance, make the sacrifices that dictate debt recovery now, because you will simplify your life and focus on more positive aspects that can be an asset to your future recovery, including your health and your personal growth.
4. Inexperienced Voices - Stop listening to advice from people who have never faced this problem, because they truly don't know, they don't have the faintest idea of the emotional turmoil you face in this situation, people love to be important and just throw words, but ask them if they have been there, then make your own judgement call, because if you continue to clutch at straws, which are assumptions of balls of air most of the time, you will face bigger problems. This form of mindset does not give you clarity, so you cannot take responsibility, you will simply be left confused and indecisive.
5. When you are facing this problem:
a. You need to be humble;
b. Learn the spirit of humility;
c. Put your pride in your pocket;
d. Focus on you, your recovery and well-being;
e. Be prepared for the sacrifices you must make and believe me, they are huge, suffer you will, but it will be for a good cause, your cause;
f. Drop the entitlement and demands, right here and now if you are delinquent, you have no rights, you can ask with humility, self-respect, integrity, respect and with hope that the creditor facing you, will resonate with those authentic emotions, because if they are authentic, they will impact the other person. I know, because I have done this many times, where it only comes from being sincere.
g. Nobody is immune to facing a debt-crisis, so never assume that your situation is unique, or that you are the only one facing financial problems, there are many in the same situation, but they have become voiceless, which means you have the opportunity to be the voice for yourself no matter how big or small, debt is debt, it does not differentiate when it consumes a human, it just does, that's it's job. It's your job to take control.
h. When you suffer from month to month, with no money left over from your income, it takes its toll on you and affects your whole life, not just the money aspect, so the questions are:
• How long can you continue borrowing money from friends and family to cover the holes?
• How will you repay them?
• You will you face them if you can never repay them?
• Borrowing the money has just made more holes, where you are losing a battle with your own personal or business debt, which will continue infinitum, until you act;
Debt consumes anyone because it is brazen, it takes by force, not like wealth that is shy, that we must seek out and embrace, before we can acquire it. So, when you continue focusing on your debt, bashing that old story, you are so far removed from manifesting money or wealth, because your focus is on the debt and as long as that is the case, you will never recover. You need to recreate with new habits which can only be acquired when you transform your mind-set. There is lots to learn, but many are not prepared to make the sacrifices, they continue hiding behind this shield, hoping that a miracle will happen when you are the miracle to make it happen!
Note 1: Theda Muller is a UAE-based author of two books: Embrace Financial Freedom Volume One: 10 Proven Ways To Release Debt And Emotional Fears In Today's Economy, and Volume Two: Releasing Fear And Bouncing Back From A Debt Crisis. She is also the CEO & Co-Founder of the remedial company EFFRS LLC, Dubai. She also conducts webinars and workshops on debt recovery.]
[Note 2: The views expressed are the author's own and do not reflect in any way, the views of Emirates 24|7. Readers are advised to carry out their own due diligence before taking any decision.]
Follow Emirates 24|7 on Google News.