World Bank downgrades global growth for 2016; India bright spot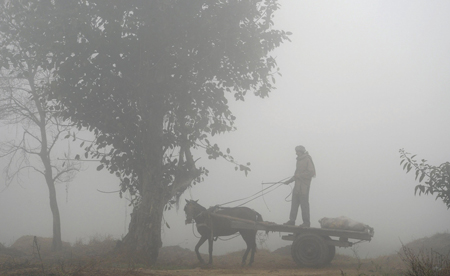 Global growth disappointed again in 2015 – slowing to 2.4 per cent – and is expected to recover at a slower pace than previously envisioned, the World Bank Group said today in a new report, which also warned that a broad-based slowdown across developing countries could pose a threat to hard-won gains in raising people out of poverty.

The South Asia region, led by India, is projected to be a bright spot. The recently negotiated Trans-Pacific Partnership could provide a welcome boost to trade.

While noting that weak growth among major emerging markets will weigh on global growth in 2016, the World Bank's January 2016 Global Economic Prospects states that economic activity should still pick up modestly to a 2.9 per cent pace, from 2.4 per cent growth in 2015, as a modest recovery in advanced economies continues and activity stabilises among major commodity exporters.

The report goes on to note that spillovers from major emerging markets will constrain growth in developing countries and pose a threat to hard-won gains in raising people out of poverty.

"More than 40 per cent of the world's poor live in the developing countries where growth slowed in 2015," said World Bank President Jim Yong Kim, stressing that developing countries should focus on building resilience to a weaker economic environment and shielding the most vulnerable.
The benefits from reforms to governance and business conditions are potentially large and could help offset the effects of slow growth in larger economies, he added.

According to the report, global economic growth was less than expected in 2015, when falling commodity prices, flagging trade and capital flows, and episodes of financial volatility sapped economic activity.
Firmer growth ahead will depend on continued momentum in high income countries, the stabilisation of commodity prices, and China's gradual transition towards a more consumption and services-based growth model.

Developing economies are forecast to expand by 4.8 per cent in 2016, less than expected earlier but up from a post-crisis low of 4.3 per cent in the year just ended. Growth is projected to slow further in China, while Russia and Brazil are expected to remain in recession in 2016, the World Bank says.
"There is greater divergence in performance among emerging economies. Compared to six months ago, risks have increased, particularly those associated with the possibility of a disorderly slowdown in a major emerging economy," said World Bank Group Vice-President and Chief Economist Kaushik Basu.
"A combination of fiscal and central bank policies can be helpful in mitigating these risks and supporting growth."
Follow Emirates 24|7 on Google News.