Yahoo warns of weak Q1, more cost cuts planned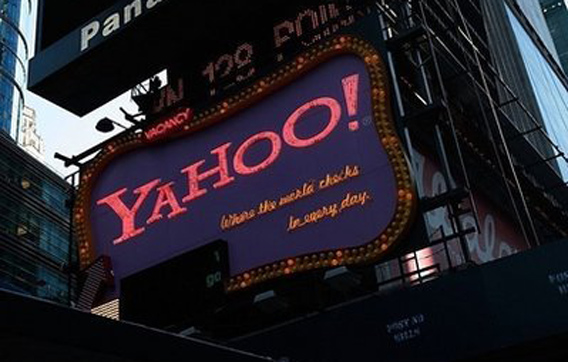 Yahoo Inc warned that revenue will again slide this quarter as it bleeds traffic to Google and Facebook and as a much-touted search partnership with Microsoft Corp fails to deliver quick results.
Yahoo reported its third consecutive quarter of declining page views on its websites. CEO Carol Bartz, who after two years in charge is facing increasing pressure to turn the once-dominant Internet portal around, promised investors that revenue growth will return in 2011's second half once its tie-up with Microsoft takes off.
"This is still a company in transition that hasn't really got where it needs to be yet," said UBS analyst Brian Pitz.
The company's shares slid roughly 2 percent in extended trading following the earnings report. The weaker-than-expected first-quarter sales forecast came the same day Yahoo announced its second round of layoffs in six weeks, of about 1 percent of its global workforce.
In contrast, rival Google Inc said it is preparing its biggest year of hiring ever in 2011.
Yahoo has struggled to contain costs and jumpstart revenue growth, but Bartz said on Tuesday the company was committed to investing to grow the company and defended the company's progress during Tuesday.
"I will not back down on the fact that we are getting momentum," Bartz said defiantly when an analyst contrasted the company's declining revenue with executives' claims of progress.
"There is a lot going on here," she said, citing new features in the company's Web search product and the successful combination of Yahoo's search advertising service in the United States and Canada with Microsoft in October.
Under the ten-year deal, Yahoo will share 12 percent of its search advertising revenue with Microsoft.
Yahoo executives acknowledged on Tuesday that the hoped-for revenue boost from the search partnership had not yet materialized, but stressed that the company expected revenue-per-search to begin to grow later this year.
"One of the biggest benefits of the combination of Microsoft and Yahoo was supposed to be on the RPS (revenue per search) side," said Ben Schachter, an analyst at Macquarie Research.
"We expected it to happen already. We still don't understand why it hasn't happened. So I'm not going to be giving them the benefit of the doubt that it will be magically fixed by the middle of this year," he said.
MORE COSTS TARGETED
Since taking the reins in January 2009, Bartz has cut costs at Yahoo and shed underperforming properties, while increasing Yahoo's operating profit margin, which reached 14 percent in the fourth quarter, compared with 7 percent in the year-ago period.
Yahoo is one the most popular destinations on the Web and the No. 1 provider of online display ads in the United States, but the company is facing increasing competition from social networking service Facebook and from Google.
Chief Financial Officer Tim Morse said Facebook competition was not hurting Yahoo's display advertising business, in which revenue increased 14 percent year over year to $635 million.
"All impressions aren't created equal. With the big customers and branded advertisers, and the premium dollars being spent, we really aren't seeing that kind of competition," he said in an interview with Reuters.
Net revenue, which excludes revenue shared with website partners, totaled $1.2 billion in the three months ended December 31, compared with $1.26 billion in the year ago period. Analysts polled by Thomson Reuters I/B/E/S were looking for $1.19 billion in net revenue.
But UBS analyst Pitz said he believed that many advertisers were increasingly looking to Facebook and Google's Doubelclick ad exchange.
"The basic problem is they are not getting the new incremental dollars that are coming from advertisers," Pitz said.
Yahoo projected that net revenue in the first quarter will range between $1.02 billion and $1.08 billion, compared with the $1.13 billion expected by analysts.
Morse told Reuters after Tuesday's financial results were released that there were still more costs to come out of Yahoo in coming years.
Asked if that meant additional layoffs, Morse said: "Over the next few years, there will definitely be some more people who leave, there will be more people who are hired."
Yahoo said its net income in the fourth quarter was $312 million, or 24 cents a share, compared with $153 million, or 11 cents a share in the year ago period. Analysts polled by Thomson Reuters I/B/E/S were looking for 22 cents a share.
Yahoo shares were down at $15.67 in extended trading after closing out the regular session at $16.02.
Follow Emirates 24|7 on Google News.