You can now buy a gold-plated Donald Trump iPhone in Dubai for Dh550K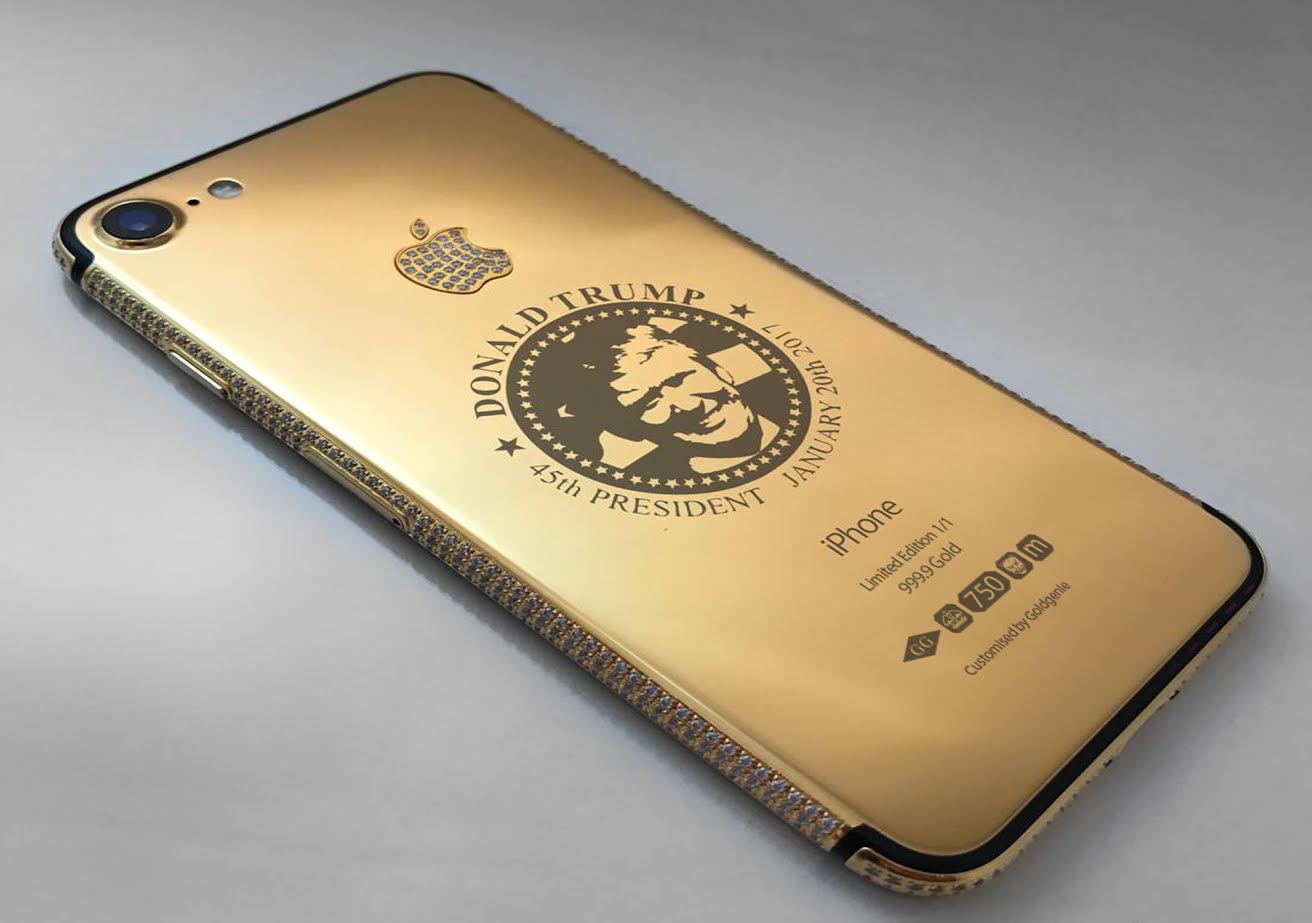 What is the perfect memento to commemorate a newly elected president?
Especially one as well-known and outspoken as Donald Trump.
The diamond encrusted iPhone 7 exclusively from Goldgenie has been embellished with over 450 VS1 white diamonds in the Apple logo and outlining the edge of this flagship phone.
The solid 999.9 purity iPhone includes Goldgenies' very own London Assay office hallmark.
The 24k gold bullion masterpiece has been commissioned to celebrate Trump's victory and to immortalize the billionaire turned President Elect.
Eager to mark this occasion in a way truly worthy of the President Elect himself, a client of Goldgenie has requested a custom luxury product that is sure to stun any billionaire.
The order for the unique iPhone came through their recently opened luxury retail store based in the Emirates' Mall and is said to be valued at over £120,000 (Dh550,886).
While the customer wishes to remain anonymous, this is as you can imagine not unusual as most of the company's clients are generally UHNW.
This is not the first time this secretive customer has ordered a diamond phone from the luxury brand, this is his 3rd order that he has made with Goldgenie.
Goldgenie founder Laban Roomes said:
"Our client is a staunch supporter and fan of the business mogul, soon to be the next US President and we are honoured to be recognised as leader in the luxury gift industry and to have been commissioned to create this piece".
The newly commissioned 'Trump iPhone' will feature an engraving of President elect Trump with 'Donald Trump' encircling this portraiture and '45th President' underneath.
Having spent over 180 man hours crafting this unique piece of history, Goldgenies' talented team of artisans are confident in how special this phone will be, and it is not outside the realm of possibility that this customized iPhone 7 will be given to Trump himself.
The Trump phone includes military grade encryption as well as call privacy features, and is 100% secure so that even an American President will feel safe using it.
Emerging onto the luxury market place in a big way over the past few years, Goldgenie is known for creating luxury, customized items such as iPhones, Mac Books, Apple Watches and even 24k gold racing bikes for a wide array of well-known celebrities, high end clientele and members of royal families.
The sales team is actually receiving several enquiries a day regarding the possibility of having Trump's face engraved on their own devices.
The inauguration of President Trump will certainly be an historic moment in US history and Goldgenie will most definitely strive to keep up with the demand for iPhones meant to mark the occasion.
As founder Laban Roomes has explained, "We have built up a strong reputation amongst high profile businessmen, blue chip organisations and this latest order is a testament that Goldgenie pioneers the way for Gold customisation regardless of the item."
Follow Emirates 24|7 on Google News.