2 women dead in open firing at house party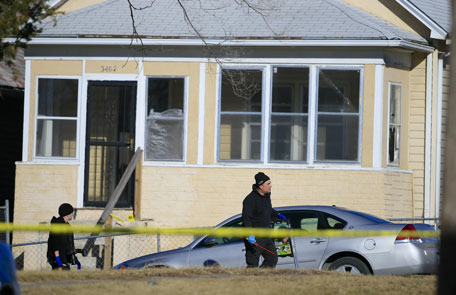 Two women were shot to death and six people were wounded early Saturday at a house party in Omaha, authorities said.

The police department issued a news release about the shootings at the small tan house in the city's northeast, but it didn't say whether it had any suspects and didn't identify any of those who were shot.

The department said the officers responded to a report of gunfire at the home shortly before 2 am and found several people who were wounded and two women in their 20s who were dead at the scene.

Three of the wounded were taken by ambulance to the Nebraska Medical Center. One was in critical condition and the other two were in serious condition, police said. Three others were driven to the hospital in someone's vehicle.

All of the victims were still at the hospital as of midday Saturday, said Nebraska Medicine spokesman Taylor Wilson. He declined to give an update on the patients' conditions.

Kristina Young, the mother of one of the slain women, was waiting outside of the home hours later while investigators continued to gather evidence. She said she wasn't going to leave until the body of her daughter, 19-year-old Ja'Kela Foster, was taken away.

Young said her boyfriend got a call from an aunt shortly before 2 am telling him there was a shooting that may have involved Foster, who leaves behind a 1-year-old son. She said a friend later called to say her daughter had been shot.

Young said her daughter knew the person throwing the party and that she asked her not to go, knowing there would be drinking and worried there could be violence.

She said her daughter agreed and told her she was going elsewhere Friday night, but that she apparently went to the party anyway.

"To the person who pulled the trigger, I want to say it's just senseless. It just needs to stop.
I now have a 1-year-old grandson that has no mother," Young said while fighting back tears.

Police were expected to release further details about the attack during a news conference later Saturday.
Follow Emirates 24|7 on Google News.