3 violent criminals escape from jail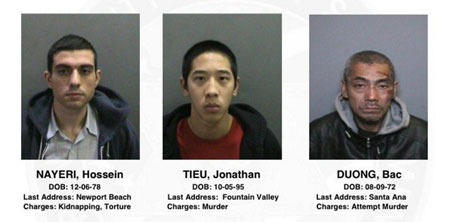 Southern California authorities launched a frantic manhunt Saturday after three inmates charged with violent crimes, including torture and murder, escaped an Orange County jail.
The inmates were last seen at 5 am Friday at the Orange County Central Men's Jail in Santa Ana, about 40 miles (64 kilometers) southeast of Los Angeles. They could have escaped any time between then and late Friday night, Lt. Jeff Hallock, a spokesman with the Orange County Sheriff's Department, said Saturday.
Hallock said investigators believe they know how the three men escaped the 900-inmate jail, but for now, he wouldn't release those details. He said it's the first escape from the facility in at least the past 20 years and could be the first-ever breakout from the jail.
The inmates include 20-year-old Jonathan Tieu, who had been held on a $1 million bond since October 2013 on charges of murder, attempted murder and shooting at an inhabited dwelling. His case is believed to be gang-related.
Hossein Nayeri, 37, had been held without bond since September 2014 on charges of kidnapping, torture, aggravated mayhem and burglary. Nayeri and three other men are accused of kidnapping a California marijuana dispensary owner in 2012. They drove the dispensary owner to a desert spot where they believed he had hidden money and then cut off his penis, authorities said.
After the crime, Nayeri fled the U.S. to his native Iran, where he remained for several months. He was arrested in Prague in November 2014 while changing flights from Iran to Spain to visit family.
The third escaped inmate, 43-year-old Bac Duong, was being held without bond since last month on charges of attempted murder, assault with a deadly weapon, shooting at an inhabited dwelling, being an ex-felon in possession of a firearm and other charges.
Follow Emirates 24|7 on Google News.