Germany's deadliest post-war serial killer: Nurse admits killing 99 patients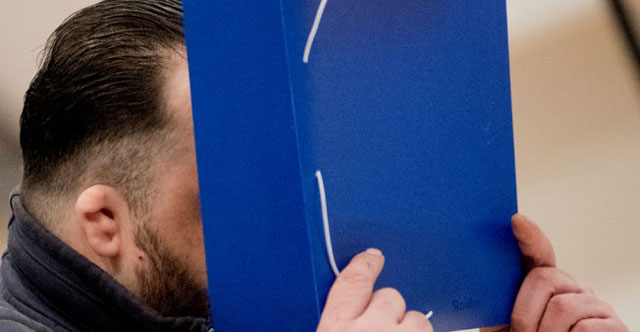 A German nurse admitted in court on Tuesday to being post-war Germany's deadliest serial killer, murdering 99 patients with lethal injections so that he could play the hero by trying to revive them.
When judge Sebastian Buehrmann asked 41-year-old Niels Hoegel if the charges against him were valid, he responded in the affirmative, adding: "All that I have admitted to is true."
Hoegel hid his face behind a blue plastic folder as he was ushered into the courtroom in the northern city of Oldenburg by police and his attorney.
He had already been sentenced to 15 years in jail in 2015 after he was found guilty of killing two patients with lethal injections. In January, prosecutors brought new charges against him for killing another 97 people.
His admission will not end the trial, at which families of the victims hope to uncover more information about the crimes.
"We want him to get the sentence that he deserves," said Frank Brinkers, whose father died in an overdose allegedly administered by Hoegel. "When this trial is over we want to put this whole thing behind us and find closure."
Prosecutors in the northern German city of Oldenburg say an investigation and toxicology reports showed that he injected 35 people at one clinic, in Oldenburg, and 62 at another in nearby Delmenhorst, with drugs that could kill them.
Ten years ago, a German nurse was convicted of killing 28 elderly patients. He said he gave them lethal injections because he felt sorry for them. He was sentenced to life in prison.
In Britain, Dr Harold Shipman was believed to have killed as many as 250 people, most of them elderly and middle-aged women who were his patients. Known as Dr Death, Shipman was sentenced to 15 life terms in 2000; he committed suicide in his cell in 2004.
Germany tries 'serial killer' nurse over worst post-war spree
German nurse Niels Hoegel, already serving a lengthy term for previous killings, will go on trial before anguished relatives Tuesday over the murders of around 100 more people - a spree prosecutors say is unprecedented in the post-war period.
The 41-year-old is accused of intentionally administering medical overdoses to patients in his care in order to be able to bring them back to life at the last moment.
He rarely succeeded.
Prosecutors say at least 35 patients were killed at a hospital in the northern city of Oldenburg where he worked, and about 64 more in nearby Delmenhorst, between 2000 and 2005.
"I hope that he will be found guilty on each count so that the loved ones can finally find some closure," said Petra Klein, who runs the local chapter of the victims' aid group Weisser Ring.
Some 126 relatives will serve as co-plaintiffs in the new trial and are expected to fill the specially designated courtroom in Oldenburg, along with around 80 journalists.
For the accused -- who fellow inmates say calls himself the most notorious criminal in Germany since the war - little will change.
'Out of the ordinary'
"This investigation is really out of the ordinary," said Arne Schmidt, director of the probe codenamed "Kardio" and created in 2014.
"We had to conduct 134 exhumations" of patients who died on Hoegel's watch, Schmidt told AFP, calling the case "unprecedented in Germany to our knowledge".
As the scope of the trail of corpses emerged, the victims' loved ones have experienced an "incredible shock", said Klein, whose organisation has offered psychological care to the affected families.
Many "came to us because the police one day knocked on their door to inform them that their relatives may have been victims of Niels Hoegel, and that they wanted to exhume them," she said.
It took time to build the latest, breathtakingly vast case.
Caught by surprise while injecting an unprescribed medication in a patient in 2005 in Delmenhorst, Hoegel was sentenced in 2008 to seven years in prison for attempted murder.
A second trial followed 2014-15 under pressure from alleged victims' families, who accused prosecutors of dragging their feet.
This time he was found guilty of murder and attempted murder of five other victims and given the maximum sentence of 15 years.
It was only then that he admitted to his psychiatrist at least 30 more murders, committed in Delmenhorst. This prompted investigators to take a closer look at suspicious deaths in Oldenburg.
"We will never really be able to count" the total number of victims, said Schmidt, because so many were cremated after their deaths. Investigators put the estimated toll at more than 200.
Hospitals under fire
Hoegel appears to have followed a similar procedure each time he targeted a patient: first, the injection of a medication triggering cardiac arrest, followed by an often futile resuscitation.
Prosecutors say he was motivated by vanity, to show off his skills at saving human lives entrusted to him, and simple "boredom".
The choice of victim appears entirely random, covering ages ranging from 34 to 96.
He did not focus on people with incurable illnesses or cite "pity" as a motive - an explanation often invoked by other hospital killers such as German "angel of death" nurse Stephan Letter, who was sentenced to life in prison in 2006 for the murder of 29 people.
Psychological analyses of Hoegel found a "severe narcissistic disorder" and a paralysing fear of his own death.
Among his victims was Christian Marbach's grandfather who was admitted to the Delmenhorst clinic in 2003 for a routine operation.
Placed in intensive care, he survived an initial injection-resuscitation cycle at the hands of Hoegel but died during a second one days later.
"He tried twice to kill him!" Marbach said. Hoegel was sentenced for that murder in 2015.
Marbach said his fury was also directed at the hospitals that employed Hoegel and failed to check his lethal impulses.
"The murders at Delmenhorst would not have been possible without the mistakes of certain people in Oldenburg who knew what was happening," he said.
The trial is expected to run until at least May.
Follow Emirates 24|7 on Google News.