Abu Dhabi Police arrest dad for beating son to death for failing exam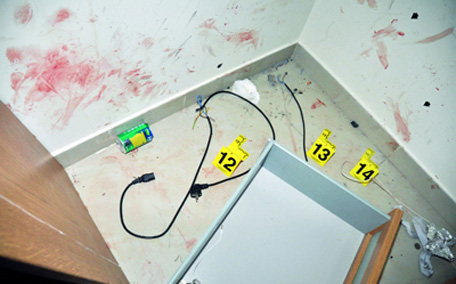 A jobless Emirati father who was addicted to drugs and liquor beat his 12-year old son to death with an electric cable after he failed in the school examinations.
Police in Abu Dhabi said the father then fled home but was captured later.
The unidentified father used a computer power cable to "savage" his son for nearly 15 minutes until the boy fainted and was rushed later to hospital.
"This is really an ugly and savage case by all standards. This father appeared without any human feelings when he attacked his son's body in such a savage manner until he died," Abu Dhabi CID chief Colonel Rashid Burasheed said.
Another security official said the incident took place on January 16 when the father went mad and began beating up his son for failing in the mid-year school examinations.
Human crime director at the emirate's CID, Lt Colonel Jumma al Kaabi said the father had been arrested and is undergoing interrogation.
"Initial investigation showed the father is jobless and is a former drug addict and alcoholic. We have established that he had beaten his son up with all his force for nearly 15 minutes, using a computer power cable. He did not leave any part of his son's body unbeaten until the boy fainted and died," he said.
"This incident of family violence takes place in our civilised society which is characterized with affection and leniency within the family.
This case showed that this father does not deserve to belong to this society."
Dubai-based Emirat Alyoum Arabic language daily, which reported the incident, said the dead son is the eldest among five brothers.
Follow Emirates 24|7 on Google News.