ADDED seizes over 500,000 fake auto spare parts worth Dh15m in Al Ain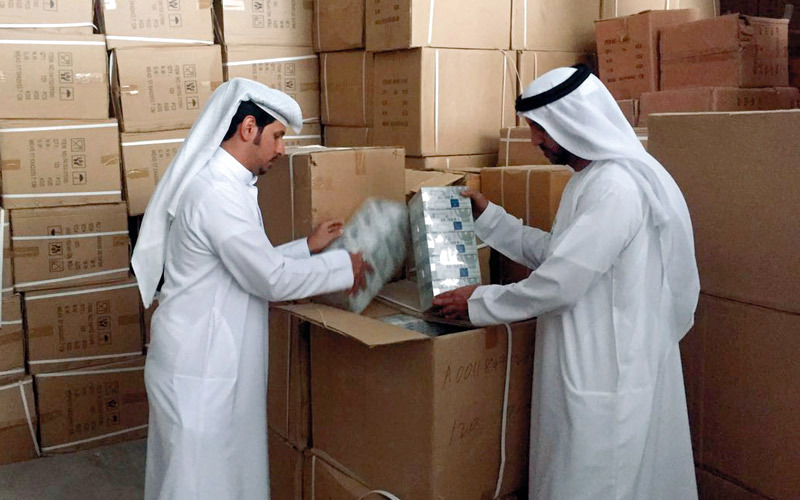 More than 500,000 fake auto spare parts, with a market value of Dh15 million, were confiscated from a store in Al Ain city.
The Abu Dhabi Department of Economic Development, ADDED, described it as a major hit against trading in fake and counterfeit items, saying it is the biggest confiscation across the Emirate of Abu Dhabi.
Speaking at a press conference, ADDED Chairman Ali Majed Al Mansouri said that commercial fraud is now a subject of global concern. The department will continue to combat it by intensifying inspection and field visits in co-ordination with stakeholders.
He also stressed that combating commercial fraud in the UAE is the responsibility of all stakeholders, including government bodies, private companies and consumers themselves, who should be equipped with the necessary knowledge and awareness to distinguish between genuine and fake goods.
"ADDED is keen to implement all the measures within its mandate as set out in Law No. 2 of 2009 on the establishment of the Department to protect the local community from fraud pirates and perpetrators of these commercial crimes that negatively affect the local economy of Abu Dhabi and the UAE economy in general," he added.
Khalifa Bin Salem Al Mansouri, Acting Under-Secretary, ADDED, noted that success in combating all kinds of commercial fraud requires integration of the efforts of all stakeholders at a time when the UAE economy is enjoying economic freedom that necessarily requires the implementation of measures that will form a protective umbrella to trademark owners and consumers alike.
According to him, the department has a team of inspectors and trainers who enjoy the powers of judicial officers and conduct routine tours and visits to malls and consumer markets to look for any violation.
They are professionally qualified and trained to co-ordinate with trademark owners, which enhance their ability to detect violations of the commercial fraud combating system and make sure that products are consistent with standard specifications.
Al Mansouri lauded the efforts of ADDED's government and private sector partners who support the fight against commercial frauds across the Emirate of Abu Dhabi, and also appreciated the positive attitude of consumers, which boosts ADDED's role in combating fraudulent commercial practices.
Elaborating on the recent confiscation, Mohamed Munif Al Mansouri, Acting Executive Director of ADDED's Abu Dhabi Business Center, ADBC, said that the seizure of auto spare parts in one of the biggest warehouses in Al Ain city came following an extensive investigation by the department's inspectors in co-ordination with trademark owners.
"The warehouse and the establishment from where fake spare parts were confiscated sell and distribute spare parts and they will face closure as per Law No. 2 of 2009 on the establishment of ADDED, which also mandates destroying confiscated items," he said.
Munif Al Mansouri called on the consumer community to be extremely careful when buying auto spare parts and asked people to report any case of fake or counterfeit spare parts being on sale to safeguard their own safety. People can report any such case by calling the toll free number 800555.
Ahmed Tarish Al Qubaisi, Director of ADDED's Commercial Protection Division, said that the confiscation in Al Ain city came after close co-ordination with automobile trademark owners. He also stressed ADDED's commitment to continuous close co-ordination with trademark owners across the Emirate of Abu Dhabi to protect them from fraudulent practices.
Follow Emirates 24|7 on Google News.