Asians main victims of road mishaps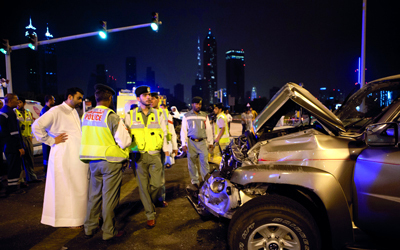 Ninety six people were killed after they were knocked over by cars on UAE roads in the first nine months of 2012 and Asians emerged as the main victims as they accounted for more than half of the death toll, police data showed on Sunday.

The figures showed 565 people, mostly Asians, were also injured in such accidents involving speeding cars and persons making wrong crossing on busy roads.

The figures by the Ministry of Interior showed 58 Asians were killed during that period while 328 were injured. Asians also emerged as the main causers of such accidents as 299 Asian drivers were involved in hitting pedestrians on the roads.

The figures showed 11 Emiratis were killed and 46 injured while 15 other Arabs died and 126 were hurt. The remaining victims belong to other nationalities.

"Such kinds of accidents are the most dangerous as they lead to high death toll," said Brigadier Gaith Al Zaabi, director of the traffic coordination section at the Ministry.

"We are exerting strenuous efforts to curb these mishaps by educating road users on the need to respect traffic laws," he told Emirat Alyoum daily.

Detailed figures published by the newspaper showed 386 Asians were killed or injured in such road accidents while 141 other Arabs died or were hurt. The victims included 61 deaths and injuries from other nationalities, 57 from the UAE and 16 from the other members of the Gulf Cooperation Council (GCC).

In Dubai total road accidents, including vehicle collisions, resulted in 122 deaths in 2012 compared with 134 deaths in 2011, according to police statistics, which showed 84 of the victims were aged between 27 and 35 years.

Indians emerged as the main causers of accidents last year as they caused 340 crashes that killed 31 people and injured 566 others, showed the figures provided by Major General Mohammed Al Zafin, Dubai's traffic police chief.

Emiratis came second as they caused 292 accidents that resulted in 29 deaths, followed by Pakistanis who caused 340 mishaps that killed 26 people.

The figures showed the number of road accidents in Dubai, with a population of just over two million, totalled 2,818 last year. Male drivers caused 1,330 accidents that killed 116 people.
Follow Emirates 24|7 on Google News.