Dubai police seize fleeing arsonist who torched cars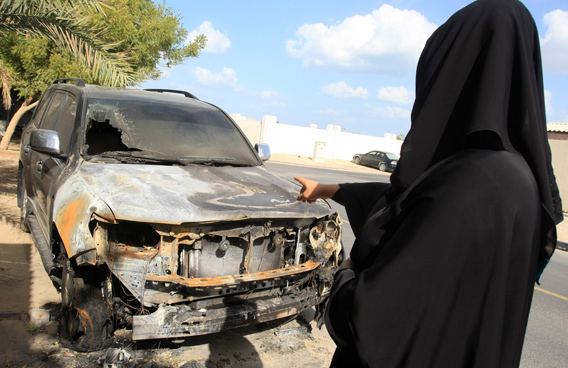 Dubai police seized a man who was on the run after torching cars at a house in Al Qouz area while a family of 12 members were asleep after mid night.
A senior police officer said the suspect was captured within a few days after he committed his crime, adding that police had succeeded in seizing him after watching places where he used to go before the incident.
"We have got him and he is now being interrogated by the police before he is sent to the prosecution," said Brigadier Ibrahim Al Mansouri, director of the Dubai criminal investigation department.
He said the unnamed suspect had an argument with a member of that family and this had prompted him to act in such a "hostile way."
Quoted by the Arabic language daily Emarat Alyoum, he said the man set ablaze three cars parked in front of the house, causing serious damage to the vehicles and part of the house. "The incident created a static of panic among the family which include two children, one of whom is handicapped," he said.
The fire was discovered by Fatima Mohammed Hassan, a family member who happened to have got out of bed and gone to the bathroom after midnight.
As family members rushed out to escape death, they forgot their little handicapped daughter, who was later rescued by the civil defence.
"The one who did this intended to kill all of us because he set fire at the house's only way out," Fatima said.
She said the suspect is well known to the family as he lives in the same area and that he had an argument with her 17-year-old brother three months ago. She said the problem was then sorted but he again threatened my brother two days before the incident.
"He planned to kill all my family because he sprayed diesel on the house's only two doors so no one would escape."
Follow Emirates 24|7 on Google News.