First robbery attempt of its kind in UAE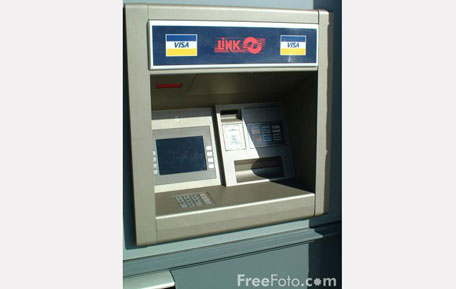 Thieves apparently influenced by western robbery movies used steel chains to tie a bank cash machine to their four-wheel car in the eastern oasis town of Al Ain, wrested it out of the wall and tried to take it away before they were scared off by an Emirati man.
Employees at the bank which owns that machine described the Thursday dawn robbery attempt as the first of its kind in the UAE and said the unknown thieves seemed to be re-enacting a scene they had seen in a western movie.
The masked thieves were about to drive away with their loot when an Emirati man, Abdullah Awad Al Sairi, who happened to be passing in the Yahr area, intercepted them. Sairi said he had first thought one thief was trying to steal a house as the machine was located in an area where there is no bank.
"I stopped the car and went there to catch the thief but I saw many of them and all of them were masked…when they saw me, they shouted 'rooh…rooh (go away)……," Sairi told the Arabic language daily Alkhaleej.
"I then made up my mind to stop them…I went back to my car, started it and rammed it into their vehicle, pushing them to flee and leave the cash machine…I tried to follow them but they headed for a sandy area, which I could not enter."
The paper did not specify the bank which owns that machine but quoted one of its employees as saying the thieves had apparently tried to take it away because they failed to open it as the bank follows international protection standards.
"What they did is the first robbery attempt of its kind in the country….it seems they have seen a scene in a movie and were trying to do the same," the employee said.
Follow Emirates 24|7 on Google News.