'High' European woman runs wild at Dubai Airport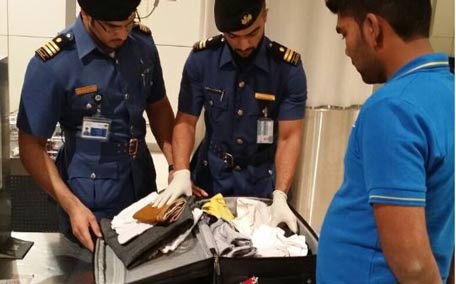 A European passenger was acting strangely after landing in Dubai as she was shouting at the customs officers. She could not even stand straight and was always moving and fidgeting.

She was high, and her behaviour raised the customs officer's suspicions that she might have taken something before landing in Dubai. And their instincts proved right, as the inspection led them to a small quantity of marijuana leaves and seeds in her handbag.

Speaking to Emirates 24|7, Hassan Ibrahim, Senior Inspection Officer at Dubai Customs said that at that moment, she started screaming and shouting and said "I will go, I don't have anything!" and grabbed her handbag and started running away from them.


As the team was dealing with a very unstable female passenger, they approached the situation cautiously.

"We didn't want to physically grab her so a policewoman approached her instead and identified herself, but the passenger hit the officer's hand, threw off her shoes and ran away from us."

The suspect then pushed people as she rushed out of the airport and onto the street screaming for help. By then the entire team were already alerted and followed her.

Hassan said: "We were concerned for her safety, we didn't want to push her to go somewhere and hurt herself, or get knocked down by the passing cars."

The Senior Inspections Officer said he and his team were in control of the situation, yet kept a safe distance, as a team of Dubai Policewomen arrived to zone in on the suspect at the airport parking lot.

Hassan said: "That's when we were forced to place handcuffs onto her wrists and complete our check."

He added: "We always try to treat people in a polite manner, with kindness, and with respect, never to be rude to them, even if they've done something wrong or they've been caught with drugs, but sometimes when they're completely high or drunk, it makes our job a little bit difficult."

That includes working along sobs and cries from the high-strung suspect as the inspection officers continued on with the search of her belongings.

"Because she was high, she was feeling scared and unsafe, saying she didn't know where she was, we told her you are at Dubai International Airport, the place is being monitored by CCTV, and we assured her that she's in one of the safest cities in the world," explained Hassan.

As the team calmed her down, she had a request from him.

"Can I speak with my teddy bear?" she asked.

He agreed to reunite her with her bear as speaking to it seemed to cool down her nerves.

He told her he would ask the police to remove her handcuffs, as long as she calmed down, stopped being aggressive and started cooperating with the inspections team.

She finally cooled down and said: "Now I have my teddy bear, you can just do your job, it's ok."

Hassan explained: "Some passengers think that by being rude and shouting at us, we will let them go, but that's never going to happen, we have to do our jobs professionally and diligently, to make sure you are not carrying anything illegal or harmful to our country and hurt our society."

He concluded: "But we are here, we're doing a good job and we always catch them."

He explained that most passengers are aware of the country's laws on illegal drugs, but still try to bring them in, sometimes unaware that inspection officers are prepared to check.

Hassan explained: "We have a lot of these cases with passengers arriving from Europe, where the consumption of marijuana for personal use is allowed."

With hundreds of thousands of passengers arriving at Dubai International Airport per day, the vigilant Dubai Customs team are alert and ready for anything.
Follow Emirates 24|7 on Google News.