'Jackpot winners' looted of Dh67,000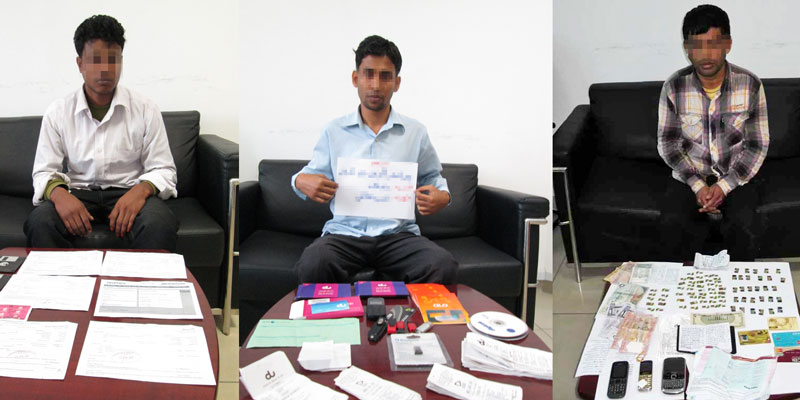 Three men have been arrested on charges of swindling about Dh67,000 from unsuspecting residents by convincing them that they have won prize money.
The incident came to light when a Pakistani filed a report with the Abu Dhabi Police that he had received a call from a man claiming to be a staff of a telecom firm telling him that he had won half-a-million dirham prize money.
Abu Dhabi Police set out to investigate the matter and in association with their counterparts in Ajman and Sharjah, they nabbed the suspects.
Colonel Dr Rashid Mohammed Borshid, Director, Criminal Investigation, Abu Dhabi Police, urged residents to be wary of such fraudulent calls and SMS asking for money transfer in order to avail their prizes.
He said the trio combined cheated public of Dh67,000 by convincing them that they had won large sums of money and that to transfer that amount to their respective accounts they had to first pay a minimum charge.
One of the fugitives who was caught from Ajman cheated his victims of Dh14,000.
He was nabbed after an Italian victim alerted cops that he received a call from a person claiming to be a staff from a telecom company, which he suspected was fake.
Police confiscated about 78 phone cards registered in the names of numerous others; credit cards of different banks; receipts of bank transfers; identity cards; bank balance statements; as well as phone call bills from his possession.
Nine cards each worth Dh500 was also seized.
Meanwhile, two others suspects were nabbed from Sharjah, who cheated victims of a total Dh53,000 by asking them to transfer money to a particular account in order to avail of their cash prize.
Follow Emirates 24|7 on Google News.