Multiple people dead in shooting at Pittsburgh synagogue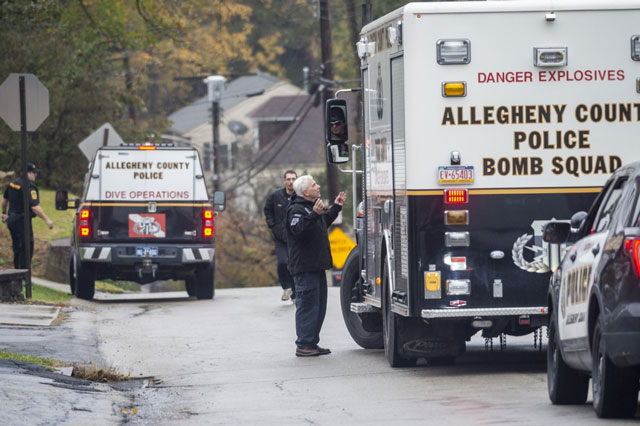 A gunman opened fire on Jewish worshippers at a synagogue in the US city of Pittsburgh on Saturday, leaving 11 people dead, in what appeared to be one of the worst anti-Semitic attacks in American history.
The shooter - identified by media as a 46-year-old white man - reportedly yelled anti-Jewish slurs as he launched the attack at the Tree of Life synagogue during a baby naming ceremony.
FBI special agent Bob Jones says that the gunman used an assault rifle and three handguns. It was when the shooter was leaving after his attack that he met a police officer.
The suspect was taken into police custody and transferred to hospital with multiple gunshot wounds.
Dozens of people were gathered during Sabbath services at the time of the attack, which federal investigators were treating as a hate crime.
President Donald Trump hit out at a climate of "hate" in America and beyond - while his daughter Ivanka, a convert to Judaism, denounced a "depraved" attack and Vice President Mike Pence called it "an assault on our freedom of religion."
"There must be no tolerance for anti-Semitism," the president told supporters at a campaign event for next month's midterm elections. "This wicked act of mass murder is pure evil, hard to believe, and, frankly, something that is unimaginable."
"Our nation and the world are shocked and stunned by the grief."
As police cars, ambulances and a SWAT team surrounded the synagogue in the historically Jewish neighborhood of Squirrel Hill, Wendell Hissrich, Pittsburgh's public safety director, confirmed "multiple fatalities" and at least six people injured including four police officers whose condition was not immediately clear.
The Washington Post and the local CBS affiliate said 11 people were dead.
"The scene is very bad inside," Hissrich said. "It's a very horrific crime scene, one of the worst that I've seen, I've been on plane crashes. It's very bad."
The gunman was identified as Pittsburgh resident Rob Bowers.
Bowers is a white man who frequently posted anti-Semitic and white supremacist views on his social media accounts.
The Pittsburgh attack comes with the United States witnessing a sharp spike in anti-Semitic incidents, having surged 57 percent from 2016 to 2017, to 1,986 from 1,267, according to the ADL.
Governor of Pennsylvania Tom Wolf said in a statement that, "These senseless acts of violence are not who we are as Americans. My thoughts right now are focused on the victims, their families and making sure law enforcement has every resource they need."
He added, "We cannot accept this violence as normal," calling on people to come together to prevent attacks like this from happening in the future.
Follow Emirates 24|7 on Google News.