3-year-old Saudi girl gang-raped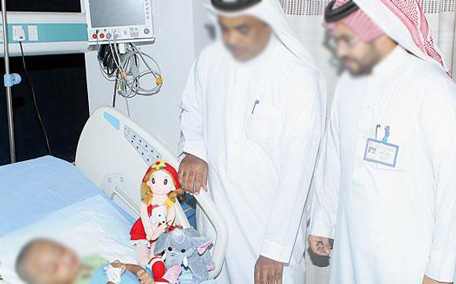 Several men abducted a three-year-old Saudi girl and took turns in raping her before dumping the child near a hospital in a serious condition.
Disclosing the crime on Monday, police said they had arrested three suspects and two women and that more could be arrested in connection with the rape.
Doctors at the hospital in the Western Red Sea port of Jeddah said the child was found crying and in serious condition in front of the hospital on Ramadan 13, adding that she is still in the intensive care unit struggling for her life.
"She has been raped violently by some men. She was found crying of excruciating pain as her body was full of bruises and her sensitive parts were ruptured," hospital manager Mohammed Ali said, quoted by the Saudi Arabic language daily Okaz.
"These are human wolves and worse than animals.
They have violated all human and religious values with this heinous crime.
"We hope she will respond to treatment and recover although doctors believe she will suffer from a trauma for the rest of her life."

Filipina held in Saudi for 'sorcery'

Saudi Arabia's feared religious police arrested a Filipina on charges of involvement in witchcraft in marital relations, a newspaper reported on Tuesday.
Members of the Commission for the Promotion of Virtue and Prevention of Vice seized the woman, in her 40s, at her office in a female sewing workshop in the northwestern town of Hail, Sharq Arabic language daily said.
"She was accused of practicing sorcery to separate married couples of bring them closer.
She was charging SR2,000 per session," it said.
Saudi teen raped by 3 soldiers for one month
Three Saudi soldiers forced a local teen age girl to give her parents sleeping pills every night and go to a rest house where they took turns in raping her for nearly a month.
The three had obtained private pictures of the girl and threatened to publicise them unless she let them sleep with her.
The unnamed girl later reported the three to the gulf Kingdom's feared religious police, who raided the rest house and arrested them.
"The three forced the girl to give sleeping pills to her family in their drinks every night before she was taken to the rest house until the early hours of the morning. They raped her for nearly a month before they were arrested," Al Weam Arabic language daily said in a report from the northern town of Arar.

Follow Emirates 24|7 on Google News.