Dh957,000 fine for jumping red light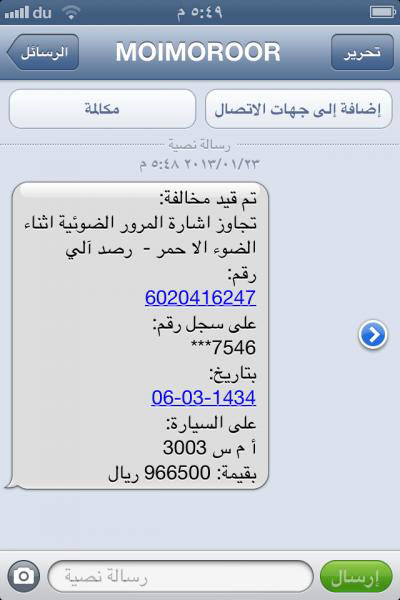 A Saudi driver could hardly believe his eyes when he received a text on his mobile phone asking him to pay SR966,500 (Dh957,000) for jumping the red lights.
Marzouk al Rooki, a well know poet in the Gulf Kingdom, said he was sure there is a mistake in the message sent by the Saudi traffic police.
"I read the message again and again, thinking there is a problem with my eyes…but the figure is there….I just can't believe the fine for jumping the red signal is that big," he said, quoted by the Arabic language daily Sabq.
He did not make clear if he had reported it to the traffic police but said the message shows that controversial traffic camera system introduced by Saudi Arabia two years ago under the name, Saher, is not accurate. "I would like to join other voices calling for stopping Saher for lack of credibility and accuracy."
Sabq later quoted a traffic police source as saying the text sent to Rooki contained an error as Saudi Arabia's international dialing code (966) was added by mistake.

Somali dies of thirst in Saudi desert

A Somali man who had entered Saudi Arabia illegally was found dead in the desert and police believe he perished because of thirst.
The body was found in the desert near the southern town of Najran and it was taken to hospital to determine the cause of death.
Police and medical sources ruled out criminal act in the incident, adding that the man likely died of thirst, according to Sabq newspaper.
ALSO READ:

Police arrest maid at Sharjah airport with Dh82,000 jewellery



New immigration programme for Canada: UAE entrepreneurs look out
Follow Emirates 24|7 on Google News.