Family of 36 stricken by dad's sadistic savagery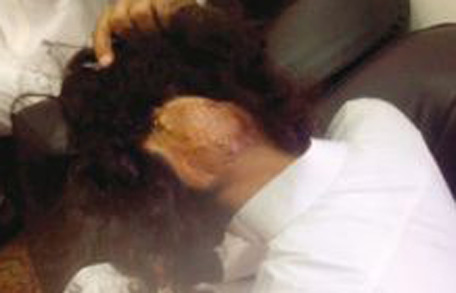 A Saudi family of 36 have been through an intolerable ordeal of torture and beating by the father.
One son has already lost a hand and another was jailed for six months.
The family, consisting of three wives and 33 sons and daughters, are crammed in a few rooms of the first level of a three-floor villa without any beds or mattresses. The second floor must remain empty and the third must be used to shelter sheep, according to the father's orders.
One bathroom has been cordoned off to be used as a torture cell, where steel bars are tied to the ceiling for one purpose—hanging by hands for days as a punishment of children who disobey their father.
The family lives in the southern mountainous town of Abha near the border with Yemen and the father is so cruel that he stopped all types of support for them while intensifying his repressive measures. His cruelty is also so strong that he does not know the names of most of his children.
"My family has been deprived from the simplest requirements of a decent life…although his financial condition is good, he no longer supports us and is using all sorts of physical and psychological torture against us," his eldest son, Musfir, said, quoted by the Saudi Arabic language daily Alwatan.
"Since I was born and started to realize things, I don't remember anything at home except beating, locking up, deprivation of food and continuous insults… we are forced to live on the ground floor without mattresses, blankets and beds……the rooms are almost empty except for insects."
Musfir said he and most of his brothers and sisters have been hanged by their hands in the toilet-turned-prison for several days.
"One little brother was kept there for a long time until blood started to come out of this mouth…but he had no mercy on him," he said.
"Another brother at our deserted house in another town when fire erupted…he suffered from severe burns but my father just left him there…I had to rush and take him to the hospital where he was kept for three years….my father never visited him in the hospital…another brother had his hand amputated at the hospital due to severe injuries caused by hanging in the toilet."
Musfir said his father had also forced his second eldest son to leave school and work as a guard at that school so he can take his salary.
"Most of us have been either to hospital or psychiatry centres for treatment because of my father's continuous torture and beatings…I myself was jailed for six months after he clamed that I stole his car…when I was out, I was allowed to return to my job in the military but in a lower rank and less money."
Musfir said the family had complained their father to the department of social affairs in the southern province of Asir but that no action has been taken. He said they then reported him to the Human Rights Commission.
The paper quoted the Commission's director in Asir, Hadi Al Yami, as saying a committee would visit the family soon to verify its complaint against the father.
"We will prepare a report once we complete the visit and talk to the family members…we will then follow up their case with the competent authorities in the province…in case all these offences are verified, then the Commission will recommend to the authorities to strip that father from his family custody."
Follow Emirates 24|7 on Google News.