Indian singer dies in road accident in Kuwait before show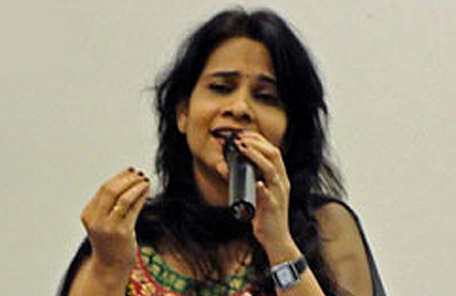 Renowned Indian singer Deepali Joshi was killed in a road accident while on the way to her hotel from Kuwait International Airport near the Sixth Ring Road.

The renowned singer arrived in Kuwait for a show on Saturday organised by Al Mulla Exchange Company in cooperation with the Indian Embassy to commemorate the 63rd Republic Day of India.

Deepali hails from a small town of Dharwad, near border of Maharashtra. She speaks Kannada and Marathi fluently. She is survived by her husband, Paresh Shah, sister and brother.
Old couple murdered at home in Kuwait
An old Kuwaiti woman and her Saudi husband were found murdered at their apartment in the oil-rich Gulf emirate and police suspect their Asian domestic servant had killed them before fleeing to his home country.
Police said they found the 60-year-old woman and her 65-year-old husband stabbed to death at their flat in Andalus neighbourhood in Kuwait City.
Quoted by local newspapers, they said several items had also been stolen from the apartment, adding that their Asian servant could have killed them after they discovered his robbery.
"Police said the prime suspect in this murder is the Asian servant who fled Kuwait to his home country on January 20, eight days after the murder was discovered," Alanba daily said, adding that Kuwait police would contact Interpol to bring back the suspect for trial in the emirate.
Girl 'traps' salesman
Police have arrested an expatriate working in a mobile phone shop for blackmailing a girl and demanding that she pay him KD 500 if she didn't want her photos to be posted on the Internet, reports Al-Rai daily.

The girl had sold her iPhone and was surprised when the employee, who managed to recover the deleted data, started blackmailing her.

The girl pretended to agree to the blackmailer's terms and reported the matter to police who put the employee under surveillance and arrested him shortly after he called the girl. The man has been referred to authorities.

Actress begs for deportation to be cancelled A 22-year-old non-Kuwaiti actress, identified only as L, has appealed to senior officials in the Ministry of Interior and human rights organizations to intervene and save her life by canceling a deportation order issued against her, reports Al-Anba daily.

The actress, whose nationality has not been disclosed, said her father and cousins were against her acting career and that they will kill her as soon as she reaches her homeland.

She added that she was summoned to Sulaibiya Police Station in a civil case filed by a company and that she was ready to solve the problem. However, she was shocked on learning that her husband, a Syrian, cancelled her residency last September without her knowledge. She said this in itself is a violation of the law because she is not divorced. The actress said it was a trap laid by her husband and her brother who is also an actor and lives in Kuwait.

Driver prime suspect as old couple bludgeoned to death

A Kuwaiti woman, in her 60s, and her husband — a GCC national — were found dead inside their house in Andalus Saturday.

According to a security source, the woman's sister called her several times but there was no response, so she decided to visit her to find out why her calls went unanswered. However, she was shocked to find the woman lying dead in a pool of blood near the kitchen, so she immediately called the police.

Upon arrival at the scene, the police officers searched the house until they found the husband's body with deep fractures on the head. The couple's bodies were referred to Forensics for autopsy.
Follow Emirates 24|7 on Google News.