Saudi groom bars Al Nasr football club fans from his wedding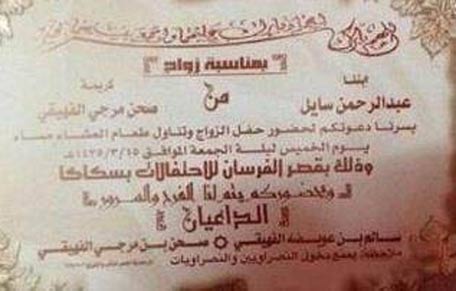 A Saudi bridegroom who supports the local Al Hilal football club told fans of the rival club Al Nasr they are not welcome at his wedding.
The unnamed groom made the polite remark in thousands of invitation cards he sent out for his wedding due to be staged on Thursday in the northwestern Saudi town of Sakakah, the Arabic language daily Sabq said.
A copy of the card was published in local newspapers and later went viral on social networks in the Gulf Kingdom, where football fans have been split into two main camps due to the strong rivalry between the two largest clubs Al Hilal and Al Nasr.
The card carried an invitation to Thursday's wedding and a small remark at the bottom saying: "All fans of Al Nasr — men and women — are not allowed in."

Man raids women's mosque in Saudi
A man raided the women's prayer section at a mosque in the western Saudi town of Madinah, claiming he is God's messenger.
Police arrested the man after he tried to enter the women's prayers building while screaming incomprehensive words.
"He was speaking non-Arabic language and some of the words that could be understood were that he was God's messenger," Sabq daily said, adding that police took him to the psychiatry hospital for examination.
Follow Emirates 24|7 on Google News.