Snubbed millionaire's brutal attack on girlfriend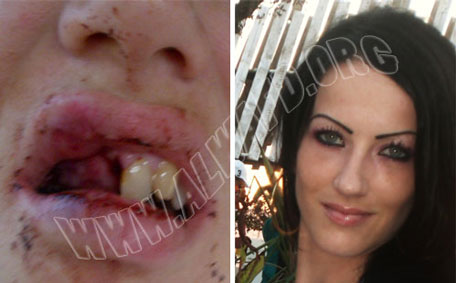 A Norwegian girl was brutally attacked by her boyfriend as she refused to marry him.
Twenty four year old Sulvy Leopreez Sakkur was severely beaten by her Egyptian millionaire boyfriend.

The lady confirmed the news in an interview with Al Wafd newspaper. She identified her boyfriend as Ahmed AL Ajati, the son of Egyptian millionaire Yahiya Al Ajati.
She said, "The reason behind this was because I refused to marry him and asked him to end our relationship".
Sulvy said she feared to speak up about her ordeal for fear of being punished more by the businessman and his son.
The incident took place on September 7th when she was in her flat at Ma'adi accompanied by her boyfriend. Sulvy asked him to end their relationship and refused his marriage proposal.
She was surprised by his reactiono as he started screaming hysterically then hit her small dog on the wall and trumpled it under his feet.
She pleaded and begged him to stop, but instead directed his anger towards her. He hit her hard on his face and stomach.
She experienced heavy blood flow from her mouth and face. Her neighbour heard the comotion and inquired about the reason for her cries. But Ahmed threatened to beat Sulvy more if she dared to open her mouth.
Ahmed AL Ajat lied to the neighbour who was at the door of her apartment.
Soon after he dragged Sulvy by her hair from her apartment from the fifth floor to the ground and pulled her into the car.
Sulvy tried to call her friend but could not manage to do so as Ahmed grabbed her hand and threw the mobile out of the car.
Sulvy testified that she was saved by pedestrians who carried her to the hospital and reported the incident to the police. But she feared more torture from the powerful business family.
Follow Emirates 24|7 on Google News.