2-year-old boy boy held hostage by father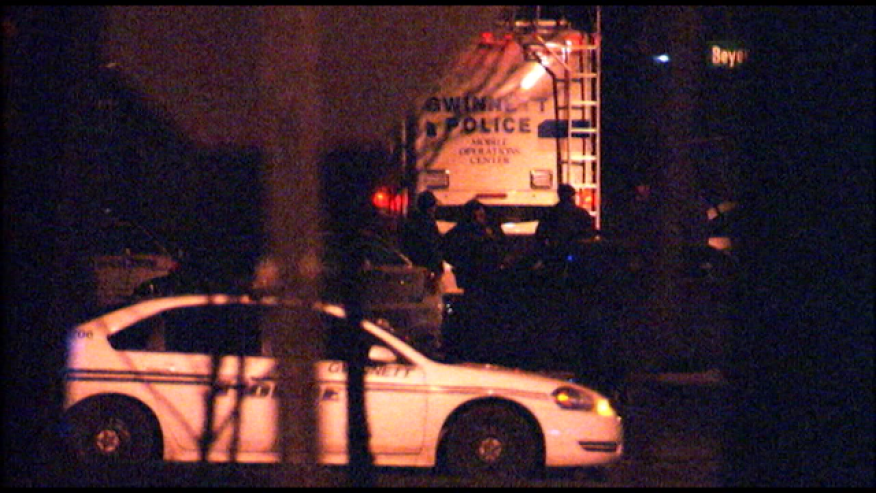 Police found a 2-year-old boy with a serious gunshot wound Wednesday at a home where his father held him hostage during an 18-hour standoff in a neighborhood in Atlanta's northeast suburbs, police said.

The father and child were each found with a gunshot wound when authorities entered the master bedroom of the home after hearing gunfire about 4:40 p.m. Wednesday, Gwinnett County police Cpl. Michele Pihera said. Pihera said the father shot himself when officers entered.

A man with a gun allowed other occupants of a Georgia home to leave -- but he kept a 2-year-old boy. (FOX5 Atlanta)

Pihera said the boy was taken to Children's Healthcare of Atlanta and his father was transported to Gwinnett Medical Center. Both were in critical condition with life-threatening injuries, Pihera said.

Names of the suspect and the victim have not been released.

Cpl. Deon Washington said the standoff began about 10 p.m. Tuesday when someone called police to report that a man threatened to shoot everyone at the home and then take his own life.

A female and "several other people" were allowed to leave the home, but the toddler remained inside with the suspect, police said in the late-morning update.

A SWAT team sealed off the neighborhood where the "barricaded gunman" was inside the home in a Buford subdivision, about 35 miles northeast of downtown Atlanta.

Wednesday was the first day of a new semester in the county's schools after the holidays but school buses were not allowed into the neighborhood, which was on lockdown, school system spokeswoman Sloan Roach said.

"Our schools are aware and will work with those families," Roach said shortly before 8 a.m. "We obviously don't have any idea when our buses will be allowed in."

Roach said she didn't know how many students were being affected by the lockdown, but they attend three schools in the area: Mill Creek High School; Jones Middle School; and Ivy Creek Elementary School.

The standoff came one day after police in nearby DeKalb County said a man with a knife held 11 children and his girlfriend inside a motel room for five hours before stabbing himself in the neck Tuesday morning. The man was critically injured No one else was hurt.
Follow Emirates 24|7 on Google News.