Commuter train smashes into car outside New York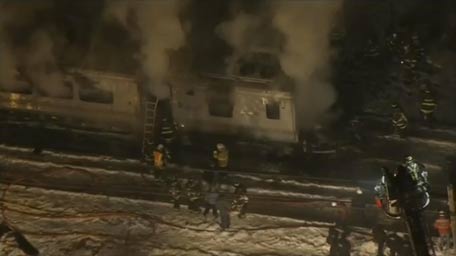 At least six people died on Tuesday evening when a New York commuter train struck at least one car near the town of White Plains, sparking a fire, ABC News reported.
The accident happened about 6:30 p.m. (2330 GMT) and involved a train heading out of New York City on the Harlem Line. Service was suspended on a segment of the line between North White Plains and Pleasantville, the Metro-North Railroad service said.
(Reuters)
Several news media showed images of a car on fire and smoke coming from train cars, and reported that passengers were evacuated from the train.
ABC quoted a passenger saying that some 750 people were on the train and that many were trapped and could not get off while people outside were telling them the train was on fire.
The Mount Pleasant Police Department, which responded to the accident about 30 miles (48 km) northeast of New York City, did not immediately provide information on injuries or fatalities.
The Harlem Line train runs from Harlem, a neighborhood in the borough of Manhattan, to Wassaic in southeast New York state.
Follow Emirates 24|7 on Google News.