Delhi gang-rape: Victim's ashes scattered even as more attacks reported every day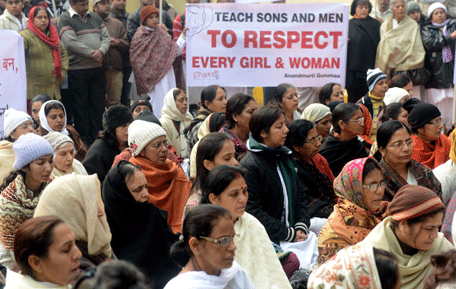 The ashes of an Indian student who died after being gang-raped were scattered in the Ganges river on Tuesday as reports of more attacks stoked a growing national debate on violence against women.
The death of the 23-year-old woman, who has not been named, prompted street protests across India, international outrage and promises from the government of tougher punishments for offenders.
Police on Tuesday confirmed they would push for the death penalty for her attackers - the force can recommend prosecutors pursue particular punishments in Indian trials.
The physiotherapy student was raped and tortured on Dec. 16 by a group of men armed with a metal bar on a private bus in New Delhi, nicknamed India's 'rape capital'. She died from her injuries on Saturday in a Singapore hospital.
Relatives scattered the woman's remains in India's largest river, which is sacred to the Hindu religion, during a small ceremony in the district of Ballia where she was born, a senior local official told Reuters.
"The immersion of the ashes was a private affair, a family affair," said R.M. Srivastava, home secretary of Uttar Pradesh, the state where the ceremony took place.

"NEW YEAR, NEW ATTACKS"
Indian media reported a string of new attacks on Tuesday, including a woman set on fire, allegedly by a stalker, in Uttar Pradesh and another woman stabbed to death in a busy market district of eastern Delhi.
In a debate titled "New Year, New Attacks, New Rapes" on television network NDTV, lawyers and politicians from several parties promised fast action to tighten laws.
"Keep up the social pressure, socially ostracise these people," said Renuka Chowdhury, a senior member of the ruling Congress party.
Protesters braved chilly weather in New Delhi to hold candlelight vigils and small rallies on New Year's Day.
"I'm going to stand here until the government actually decides to give women some safety," one young woman told journalists. Other protesters brandished placards that read "First of January is a black day."
The attack revealed deep fissures in Indian society, where staunchly chauvinist views clash with a fast-modernising urban culture in which women play a growing role in public life.
The case also cast a spotlight on an epidemic of violence against women in India, where a rape is reported on average every 20 minutes. Media coverage of such crimes has intensified in the wake of the outcry over the Delhi attack.

CHARGES EXPECTED
Five men and a teenager have been detained over the attack and police sources on Tuesday said charges would likely be filed on Wednesday or Thursday.
Police are seeking the death penalty against four of the accused, one senior police source told Reuters.
They will also likely be charged with gang rape, abduction and destruction of evidence, the source said. The juvenile can not be executed under Indian law, although the victim's brother has called for all the accused to be hanged.
Anger at the brutality of the assault and the slow footed response from authorities spilled into the streets before Christmas, with police and protesters fighting running battles near the heart of government in Delhi.
The Indian Medical Association has questioned the decision to move the victim, who was suffering a massive blood infection and organ injuries, to Singapore, where she died.
On Tuesday police said they arrested a man who attempted to plant a low intensity explosive device near the house of one of the accused. The device was safely detonated, the force said.

Crude bomb planted near suspect's house
Indian police on Tuesday arrested a man who was allegedly trying to plant a crude bomb near the home of one of the accused in the New Delhi gang-rape and murder case.
The 37-year-old man was arrested in the narrow bylanes of Ravi Dass Camp, a slum in southwest Delhi where four of the six accused lived, an officer in the city police control room said.
The low-grade device was filled with explosives usually used in firecrackers, he told AFP.
Two of the other accused come from outside Delhi, according to police.
The incident reflects growing anger across the country since the 23-year-old medical student was repeatedly assaulted and violated with an iron bar while being driven around in a bus on the night of December 16.
The suspects, some of whom were reportedly attacked in jail last week, are to be formally charged with rape and murder on Thursday.
The victim died of her grievous injuries in a Singapore hospital at the weekend.
Home Minister Sushilkumar Shinde has said the suspects risked the death penalty if found guilty and the case against them appeared very strong.
Delhi gang-rape victim's family want killers hanged
The family of an Indian gang-rape victim said Monday they would not rest until her killers are hanged as police finalised their
investigation before charges are laid against suspects this week.
As the ruling Congress party reportedly pushed for tougher punishments for sex crimes, including chemical castration, authorities in New
Delhi launched a hotline to improve safety for women in a city dubbed "India's rape capital".
Around 400 university students gathered in central Delhi on Monday, vowing to continue their "movement" until better safety measures are put in place and the guilty punished.
The dead woman, whom friends say was planning to marry in February, died of her injuries on Saturday in a Singapore hospital, nearly two weeks after being savagely attacked by men on a bus in New Delhi. She was cremated on Sunday.
"The fight has just begun. We want all the accused hanged and we will fight for that, till the end," her brother told The Indian Express in an interview published on Monday.
Delhi police said their probe was almost complete, pending the arrival of an autopsy report from doctors in Singapore and the conclusions of forensic experts, with charges to be unveiled on Thursday.
"It is up to the court to decide when the trial would begin," said police spokesman Rajan Bhagat.
Six men will face murder charges after allegedly luring the 23-year-old medical student onto a bus on December 16, and then taking it in turns to rape her and assault her with an iron bar before throwing her out of the moving vehicle.
The man whom she was hoping to marry, a 28-year-old software engineer, was also left with serious injuries after he too was attacked and dumped on the roadside.
Relatives told The Indian Express he had taken part in an identification parade of suspects at New Delhi's high-security Tihar jail.
While the country returned to work after a weekend marked by candlelit vigils and street protests, few people were in the mood to celebrate New Year. Many bars as well as the armed forces cancelled or toned down festivities.
Seeking to assuage anger at police and local officials for failing to prevent widespread violence against women, the Delhi government announced compensation of 1.5 million rupees ($27,348) for the family of the murdered woman and promised one of her relatives a job.
The young woman's father spoke of the impact of the tragedy on the family.
"My wife had hardly eaten in the last two weeks," he told the newspaper.
"She was exhausted... I think she was not ready to face the shock of our daughter's death, despite doctors always telling us that she was serious. She cried intermittently all of Saturday, but it got worse on the flight back home."
The father, who was at his daughter's bedside when she was pronounced dead in Singapore, said he too was struggling to accept the news.
"It is too painful. I have not gone inside her room. She was born in this house. Her books, clothes, they are all here," he said.
The attack has led to widespread calls for rapists to be executed in a country where the crime is so commonplace that it rarely gets a mention in the papers.
India does have the death penalty for "the rarest of rare" crimes although executions are only occasionally carried out.
Mohammed Ajmal Kasab, the only surviving gunman of the 2008 Mumbai attacks, was hanged last month but it was the first execution for eight years.
The UN's high commissioner for human rights Navi Pillay said she hoped the incident would mark a turning point for India but that the death penalty "is not the answer".
"What is needed is a new public consciousness and more effective and sensitive enforcement of the law in the interests of women," she said.
"India has shown through its social reform movements of the past that it can rid itself of a scourge like rape."
Rattled by the angry protests, Prime Minister Manmohan Singh has ordered a retired judge, J.S. Verma, to lead a review of laws on sex crimes.
According to reports on Monday, Singh's own Congress party may propose in its submissions to Verma's inquiry that rapists serve up to 30 years behind bars and be chemically castrated "Certain proposals have been made but we cannot officially comment at this stage because the draft is not ready as yet," said a party spokesman.
Follow Emirates 24|7 on Google News.