Extradited Mexican drug lord 'El Chapo' arrives in US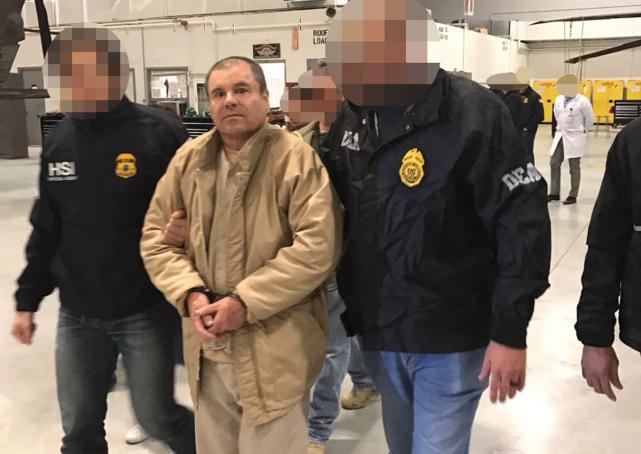 Mexican drug baron Joaquin "El Chapo" Guzman, one of the world's most notorious criminals, was extradited to the United States on Thursday to face charges on the eve of Donald Trump's inauguration.
Guzman heads the Sinaloa cartel, which is accused of generating much of the deadly violence in Mexico's decades-long drug war and providing tons of narcotics to the United States.
The drug kingpin landed at Long Island MacArthur Airport in Islip, New York, the US Justice Department said. Media reports said he was scheduled to appear before a federal court in Brooklyn on Friday.
His extradition caps a Hollywood-worthy cat-and-mouse game between Mexican authorities and the slippery drug lord, who escaped twice from prison.
His feats turned him into a legend of Mexico's underworld, with musicians singing his praises in folk ballads known as "narcocorridos" - tributes to drug capos.
The 59-year-old had fought his extradition since being recaptured almost exactly a year ago in his home state of Sinaloa following his second daring jailbreak.
President Enrique Pena Nieto had previously refused to extradite Guzman, but he changed tack after his latest escape in July 2015.
Guzman is charged in six separate indictments throughout the United States, one of which is New York.
US prosecutors said Brooklyn federal attorney Robert Capers will hold a news conference at 10:00 am (1500 GMT) - less than two hours before Trump's inauguration - to announce his extradition and arraignment.
The Mexican foreign ministry said he was handed over to US authorities after the Supreme Court and a court of appeals rejected his latest bids to avoid extradition.
The appeals court ruled that the extradition conformed with a bilateral treaty and that Guzman's rights had not been violated, the statement said.
One of Guzman's lawyers, Silvia Delgado, told Milenio television that she was surprised by the extradition, calling it "illegal" because another legal petition was pending.
He had been held most recently in prison in Ciudad Juarez, which borders Texas, since he was abruptly transferred there from another penitentiary near Mexico City in May.
The US Justice Department extended "its gratitude to the government of Mexico for their extensive co-operation and assistance in securing the extradition" to the United States.
In May, the Mexican foreign ministry approved extradition bids from California, where he is wanted for drug distribution, and Texas, where he faces a slew of charges including murder and money laundering.
Trump, who takes office on Friday, has publicly clashed with Mexico over trade and immigration issues. The Republican president-elect has pledged to build a wall on the US-Mexican border.
Alejandro Hope, a prominent Mexican security expert, said the decision to extradite Guzman in the last hours of Barack Obama's presidency and before Trump takes office was "not a coincidence." "They didn't want Trump to be able to brag about it, so they managed to hand him over in the final minutes" of the Obama administration, he told AFP.
But Alejandro Almazan, author of Guzman biography "The Most Wanted," saw the opposite, calling Chapo "a gift to Trump" because Pena Nieto wants good relations with the new US leader.
Guzman was first captured in Guatemala in 1993, only to escape from a maximum-security prison in western Mexico in 2001 by hiding in a laundry cart.
Marines backed by the US Drug Enforcement Administration arrested him in February 2014 in the Sinaloa resort of Mazatlan, where he was staying with his wife and twin daughters.
Pena Nieto insisted at the time that Guzman would face justice at home.
But Guzman escaped from prison again in spectacular fashion just 17 months later.
His henchmen dug a 1.5-kilometer (one-mile) tunnel that opened into his cell's shower at the Altiplano prison near Mexico City, allowing him to slip out and flee on a remodeled motorbike that was fitted on tracks.
Guzman was recaptured in the Sinaloa town of Los Mochis in January 2016.
Authorities said they tracked him down after Guzman held a clandestine meeting with US actor Sean Penn and Mexican-American actress Kate del Castillo a few months earlier.
Officials intercepted flirtatious text messages that Guzman sent to the actress.
After he was arrested again, Pena Nieto ordered officials to speed up the process.
Guzman's arrest likely leaves his long-time associate, Ismael "El Mayo" Zambada, at the helm of the Sinaloa cartel, giving continuity to the powerful gang.
But Raul Benitez Manaut, a security expert at the National Autonomous University of Mexico, said the extradition "definitely weakens the Sinaloa cartel." Guzman's sons, Archivaldo Ivan and Jesus Alfredo Guzman, may harbour their own ambitions.
"There will be an internal fight between his sons and the sons of other of the founders," Benitez Manaut said. "It could be violent - or maybe it could be peaceful."
Follow Emirates 24|7 on Google News.