Family, friends mourn Indian killed in Kansas bar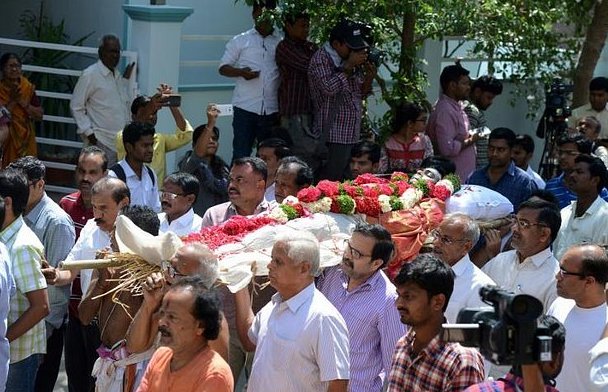 Grieving family and friends mourned an Indian engineer Tuesday whose killing at a Kansas bar has shocked the country and raised fears about the safety of Indians in America.
A US Navy veteran was charged with the murder of 32-year-old Srinivas Kuchibhotla last week in a case that American authorities are investigating as a possible hate crime.
On Tuesday, Kuchibhotla's wife, family members and friends gathered for funeral services in the southern Hyderabad city.
Kuchibhotla's father performed the last rites according to Hindu rituals while his wife sitting next to the garlanded body broke down in tears.
A second Indian engineer was injured by the drunk white man who allegedly screamed "Get out of my country" as he opened fire at a bar in Olathe.
The shooting has made headlines in the Indian media amid concerns that the hardline immigration policies of president Donald Trump may have created the climate for such an attack.
On Tuesday, some of Kuchibhotla's supporters were seen carrying placards that read "Down with racism" and "Down with Trump" in front of the burning funeral pyre.
In the wake of the killing, there has been a growing chorus of demand for Washington to act.
"USA should respond to this incident. American President and people of America, they should come out openly to condemn such actions... and then take strongest action," Information and Broadcasting Minister M Venkaiah Naidu was quoted over the weekend by the Press Trust of India as saying.
The Times of India said in an editorial Monday that the shooting had shocked the Indian community in the US and urged Trump to "make it clear that such hate is not acceptable in his America".
Follow Emirates 24|7 on Google News.